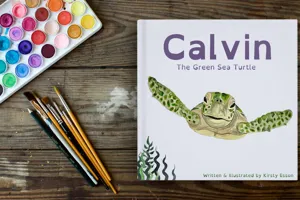 Books that make a REAL difference
Lovers of Sea Turtles rejoice! Our SEA LIFE Aquariums across Australia and New Zealand have launched a set of brand new, children's storybooks, with 100% of the profits going towards caring for Sea Turtles in the wild. 
Right here in Auckland you can purchase 'Calvin The Green Sea Turtle', a true story about a beautiful Green Sea Turtle that came into care of SEA LIFE Kelly Tarlton's Aquarium when he needed help.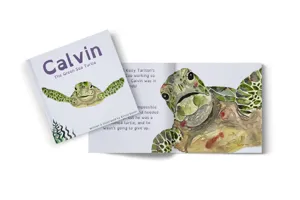 This gorgeous story, written and illustrated by Kirsty Esson – artist, turtle lover – explores the dangers that turtles face in the wild and touches on themes of adventure, hardship, and the nurturing care of those who look after Calvin.
This story is for any children who love turtles and want to learn how they too can help these majestic creatures in the wild.  
Retailing at just $15, 100% of profits from the sale of this book will be donated to registered charity the Kelly Tarlton's Marine Wildlife Trust who will in turn utilise the funds on conservation campaigns, scientific research and inspiring education – all in the name of the Sea Turtle.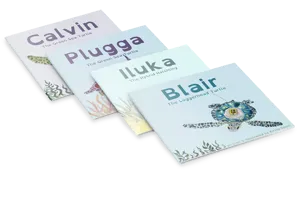 'Calvin the Green Sea Turtle' will be for sale with the online purchase of a SEA LIFE Kelly Tarlton's Aquarium General Admission ticket. Guests can also pick up a copy on their way out via the gift shop at the aquarium from 23rd May onward.
Alternatively, you can purchase Calvin the Green Sea Turtle or all x4 books based on true stories brought to life from SEA LIFE attractions in Melbourne, Sydney, Sunshine Coast and New Zealand HERE.
Books will be available for sale for a limited time only from 23rd May 2021 to celebrate World Turtle Day.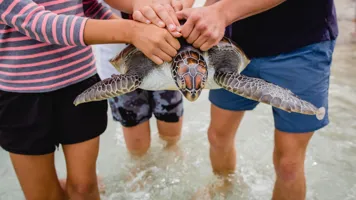 Watch the release of Calvin
After 14 months of continuous monitoring and rehabilitation, Calvin the Green Sea Turtle was successfully released into the ocean at Rangiputa Beach in early March 2020.
Find out more about the release here.