Kid-Friendly Places To Visit in Bangkok At Night
Friday October 16th 2020
SEA LIFE Bangkok
Article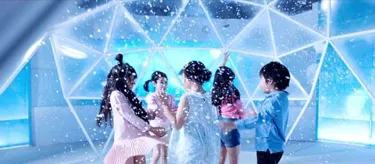 Bangkok runs 'round the clock! So, if you've got kids and want to venture out at night, there are plenty of colourful, cultural and family-friendly places to visit after dark. Here are some to start with.
Cruise the Chao Phraya River
Taking a night cruise down the river will reward you with all Bangkok has to offer. Temples and churches alongside huts and luxury hotels, it's a beautiful juxtaposition of old meets new. See the sites and landmarks glide by; the Emerald Buddha Temple and the Grand Palace. Enjoy the city's major artery from the comfort of a boat. This is the best way to explore and experience Bangkok; the breeze and the buzz of the city at night.
Ratchada Train Market
This market is cool for both big and little kids. Vintage shops offer unique items, and the low prices let your whole family go to town. Open Thursday to Sunday, from 5pm till after midnight, get amongst the retro vibe to eat and experiment your way through new
dishes and old favourites as you sip from a fresh coconut. Will you stick to pizza or sample some creepy-crawly delicacies? The kids will love the colourful fruit smoothies. Shop toys, souvenirs, clothes and accessories to round out your experience.
Chang Chui Plane Night Market
Wow the kids at this complex, featuring the highly Instagrammable backdrop of a retired L-1011 TriStar Lockheed plane. Chang Chui translates to 'messy artisan,' which sums up this creative, multiple-use space on the Thonburi side of the Chaophraya River. It's open every day except Wednesday.
The 'Green Zone' is alcohol-free and is open 11am-9pm. Here you can grab a coffee or fill up on Thai fare at the food court eatery, starring notable vendors. Take in the modern setting; retro seats and greenery. Wander around the 'night zone,' from 4pm-11pm. Listen to live music and take in theatre performances, try on trendy clothes and treat the kids to a new do at the vintage hair salon. Grown-ups can grab a craft beer under the plane wings at the Runway Bar.
SEA LIFE Bangkok
This aquatic wonderland is one of the largest in Southeast Asia. With jaw-dropping, world-class exhibits and more than 10,000 marine creatures, SEA LIFE Bangkok Ocean World is a must-do on your family itinerary. In the basement of Siam Paragon, it's easily accessible from most Bangkok city locations and closes at 9pm, with last entries at 8pm. See aquatic animals from all depths and regions in this family attraction.
Don't miss the Shark Walk, where only a thin sheet of acrylic separates you from the Sand Tiger, Leopard and Blacktip Reef Sharks on the other side. Marvel at their beauty and learn about their habits via the interactive screens.
Then stop by the Ocean Tunnel. Walk through this aquarium highlight, while Eagle Rays and Shovel Nose Rays glide overhead. Being surrounded by sharks and schools of fish is a stellar shared experience; the family will chat about it long after the event.
Watch the cheeky Gentoo Penguins in the Penguin Ice Playground. See these adorable black and white birds darting and diving underwater or waddling around on the ice. With the snowy surrounds and chilly breeze in your face, you'll feel like you're face-to-beak in the Antarctic.
Madame Tussauds Bangkok
Get up close to local and international figures who've changed the world, as well as present-day superstars. See the life-like wax sculptures and be starstruck by celebrities. Meet celebrated Asian personalities who've influenced history, from Mahatma Gandhi to Sukarno, as well as powerful women such as Queen Elizabeth II and Michelle Obama.
Explore the lives and legacies of notable arts and science luminaries, Albert Einstein and Ludwig van Beethoven or get in the active zone with sports stars, Serena Williams and 
Yao Ming. Take to the stage with Rock and Pop icons, Katy Perry and Nichkun Horvejkul, and try out your Kung Fu moves with Bruce Lee.
Shimmy up to Bollywood names like Shah Rukh Khan and Amitabh Bachchan in the IIFA zone. See TV megastars like Auggun Cipta Sasmi, a judge from the Asia's Got Talent series. Get social-buzzing selfies with A-Listers like Will Smith and Angelina Jolie.
Take a Tuk-Tuk
After dark, you can tuck the family into a tuk-tuk and watch the world whizz by as you ride through the city. Choose a destination or ride for the sake of it; see the dynamic streets alive with all walks of life. It's a quintessential Bangkok experience and makes for some top photo opportunities. 
Book Now