E- Ticket in your mobile!
Ticket valid all day!
Children under 3 years free
E- Ticket in your mobile!
Ticket valid all day!
Children under 3 years free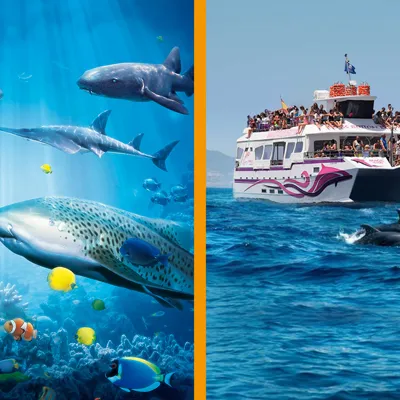 You will enjoy a unique experience!
Up to 12% discount!
Step beneath the waves at Sea Life Benalmadena and get closer than ever before to the creatures and features of the world´s oceans.
Animal feeds, quiz trail, fun talks… There´s plenty for all the family to enjoy!
MAGIC VISION can you imagine the experience of seeing dolphins in wild? Enjoy the Mediterranean in a 2 hrs catamaran trip.
Visits can be done in different days.
Ticket valid from date of purchase and expires after 15 days.
Catamaran MAGIC time table - every day sail at 10:30 am - 12:30 am - 3:00 pm.
We recommend call boat in advance to confirm availability. Tfns 952444881 - 678618585
(Due to adverse weather conditions service may be cancelled).   Dolphins sightseeing are not guaranteed.
IMPORTANT NOTE
VISIT SEA LIFE FIRST TO VALIDATE THE PACK.
Visits to SEA LIFE Benalmadena and Magic Vision can take place on different days.
IMPORTANT! Tickets are  valid from the  day of the purchase.
To validate your online purchase visit first SEA LIFE.
This offer is not valid in conjunction with any other offer, promotion or voucher.
 Tickets are valid 15 days from day of purchase. YOU DO NOT NEED TO PRINT YOUR TICKET. NOTE DOWN YOUR CONFIRMATION NUMBER OR SHOW US ON A MOBILE DEVICE.
Online ticket will need to be validated at the tills.