On selected evenings, there'll be some very special visitors at SEA LIFE Brighton. Explore the aquarium in these limited evening sessions, before you see an extraordinary swim display....
You'll get a rare chance to marvel at the real-life mermaids as they join our sea turtles, Lulu and Gulliver, in our our Day & Night Ocean experience for a magical time! If you catch their eye, you may even get a mer-mazing greeting!
30th to 31st July
5pm - 9pm
Tickets from £22.50 adult, £18.50 child, £6 passholder and under 3's go free
Explore the full attraction
This experience includes full access to explore the whole aquarium. On arrival, guests will be issued a set time to take a break from exploring the centre and head to their mermaid experience. 
So take your time and say hi to all the fishes first, then arrive at our Day & Night Ocean experience for your allocated mermaid viewing time. This will ensure everyone gets to see the mermaids without queuing.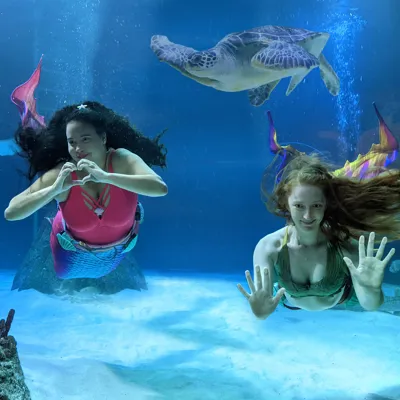 More details
Friday 30th July 2021
Saturday 31st July 2021
Tickets are limited!
Adult: £22.50
Child: £18.50
Annual Passholders: £6
Please note that tickets will be unavailable to purchase at the attraction on the day, and so must be booked online in advance of your visit. You can choose an entry time when booking.