Sea of Lights
Dive into the Holidays Nov 17 - Jan 3, 2022!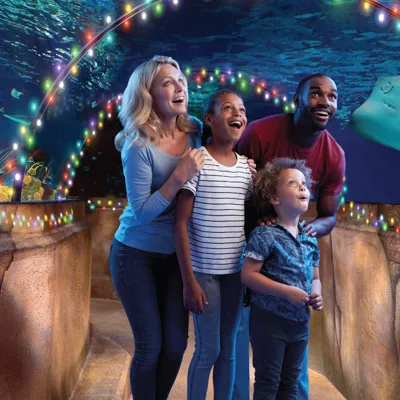 Dive Into the SEAson!
Shell-abrate the season and get ensnared in Sea of Lights, one of the only holiday indoor daytime attractions in the Charlotte metro. Boasting over 28 themed Christmas trees (that's 8 giraffe lengths in trees!), thousands of twinkling lights, festive décor, interactive experiences, and immersive events for children, SEA LIFE is taking the holiday down a notch (to the sea that is!).
Visit on select dates to experience the Hot Cocoa Station and Holiday Craft Celebration Station (details below).
You Gotta SEA This:
Be memorized by 28+ Christmas Trees displayed throughout
Thousands of twinkling lights
Festive decor to spot for the best seasonal selfies
December 4th through 26th, 2021 (weekend days ONLY) – To Go Hot Cocoa Station open to kids at the end of the exhibits featuring ALL the tasty holiday mix-ins!
December 4th through 26th, 2021 (weekend days ONLY) – Holiday Craft Celebration Station where we make anything from paper snow globes, ornaments, Christmas tree trail, make-your-own snowman, and more!
Buy Tickets