Explore the new room dedicated to the Venetian Lagoon, where you can discover the incredible biodiversity of this extraordinary eco-system (in partnership with the National Research Council's Institute of Marine Sciences in Venice).
The creatures of the Lagoon
Peacock Blenny
Salaria Pavo
Moeche crab
Carcinus aestuarii
The Venetian Lagoon
The Venetian Lagoon is the largest in the Mediterranean basin. A mirror-like saltwater embayment, it formed around 6,000 years ago thanks to the combined action of river sediment deposits, coastal currents and waves. Due to its unique and particular qualities, "Venice and its Lagoon" are registered on the UNESCO World Heritage List.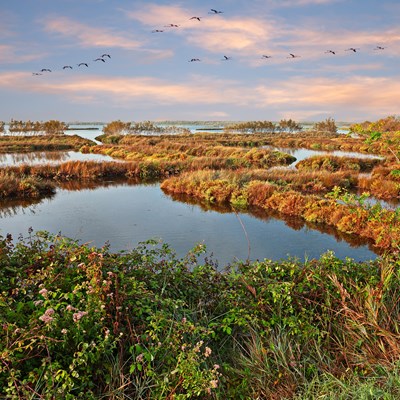 The Lagoon environment
The lagoon has been shaped by the action of the sea, through the power of waves and tidal currents. The water, which enters through the inlets with the tidal cycles, crosses a series of canals that branch out to reach the innermost areas of the lagoon. The tide forms not only the shape but also the environments and communities of the lagoon.
The urban environment
Walking along the banks of the Venetian canals, you can see a great variety and number of life forms that populate the banks, docks and mooring poles.