SEA LIFE London dives into it's annual 'Count and Clean' for thousands of creatures!
Wednesday 23rd January 2019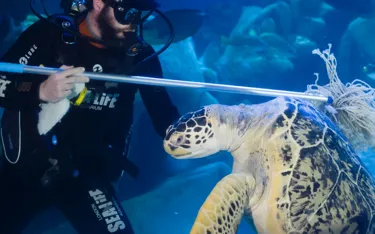 Wearing wetsuits and armed with a vast collection of cleaning tools, our aquarists dived into our annual creature 'count and clean' to take stock of its huge array of amazing marine species.
Our aquarists at SEA LIFE London faced the enormous challenge of counting our 7,000 of its fascinating creatures, in addition to sprucing-up their homes so they gleam for guests in 2019. 
The count element of this annual event allows us to take part in international breeding programmes, alongside our centres around the world. This includes the SEA LIFE Trust, British and Irish Association of Zoos and Aquariums (BIAZA) and the European Association of Zoos and Aquariums' (EAZA) studbook programmes which aim to conserve the healthy population of animals.