SEA LIFE Melbourne just three months away from unveiling breathtaking 2.2 million litre Oceanarium!
Monday 25th September 2023
oceanarium, newexhibit, comingsoon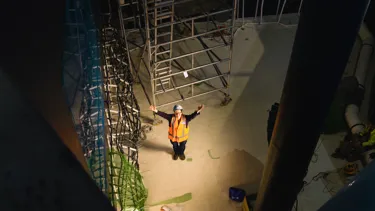 The most exciting countdown of the year has officially begun!
In just three months' time, SEA LIFE Melbourne Aquarium will unveil the incredible $9 million renovation of its 2.2 million litre oceanarium.
Promising an experience that will captivate guests of all ages, this eagerly anticipated aquatic display is on track to open to guests this summer.
Speaking from 12 metres down in the depths of a dry oceanarium, Claire Burrell, General Manager of SEA LIFE Melbourne Aquarium, said, 'We're elated to announce that the countdown is officially underway!'
In three months,' SEA LIFE Melbourne will welcome back our much-loved sharks and rays as well as hundreds of new fish. Guests will have an unparalleled opportunity to embark on a journey of discovery, delving into the roles these magnificent creatures play within our global ecosystem, through a world-class, immersive experience."
As the grand unveiling of SEA LIFE Melbourne Aquarium's new exhibit approaches, the excitement continues to build.
The upcoming launch is set to be an extraordinary moment in the aquarium's history so guests are encouraged to follow the journey by signing up to our newsletter to stay up to date. 
Follow the link below to via our live countdown!