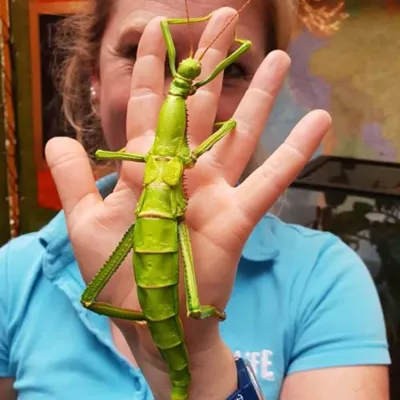 School special: feel what's crawling there!
Can you hear that? Adventure is calling! Dive into the underwater world with your students and get very close to the animal world. Who is brave enough to dare to touch a stick insect? Or even pick up the huge agate snail? In the end, the bravest might dare to approach the hissing cockroaches. At the touch pool, the group also feeds the sticky anemones and meets the hermit crab Sebastian. In addition, at this early hour the aquarists are also on their morning tour. Here people are busy feeding, cleaning and documenting. Shh! All encounters are of course completely harmless and take place under expert guidance. But still - the students have to trust themselves!

Your advantages:
Exclusively for schools
Discounted admission price
Guided tour including meet & greet with insects
A voucher for each student for a free additional visit
Get information and book now at 0800-6648200 (call free of charge)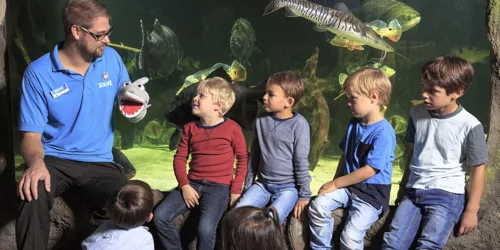 Guided tour with Sharky the shark
For kindergarten and preschool children from 4 years
On this beautiful tour, our little shark Sharky leads through our fascinating underwater world. Together with the children, Sharky goes in search of his great shark friends.
Reduced admission price from € 5.95 per child; two carers free for every 10 children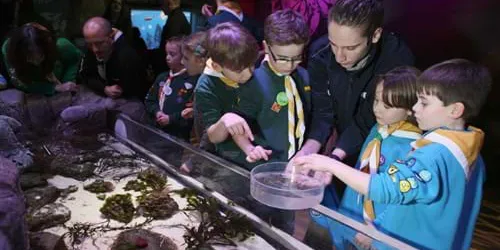 Beyond the sea!
For kindergarten and primary school children from 1st to 4th grade.
Discover, learn, experience the sea! On this interactive guided tour, students can dive into the fish's fin room. You not only explore their habitat, the element of water and the incredible diversity of species, you can also get active yourself.
Secrets of the sharks
For primary school students from 1st to 4th grade
The students go on a fascinating journey under the guidance of our shark expert and discover the secrets of the sharks. What does a shark tooth look like? Do sharks have to brush their teeth? And why are sharks so important to the ecosystem? The pupils can put their new "sea knowledge" into practice right away in practical exercises.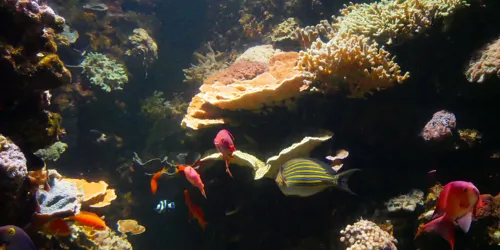 Ecosystem ocean
For pupils starting from 4th grade and secondary schools.
How do the various river and sea creatures contribute to the interaction underwater? How do symbioses and coral reefs function as the most biodiverse and most sensitive ecosystems in the world? What role do people play? These and many other questions will be answered.
Simply book or inquire online
Advantages for reserved school classes:
We kindly ask you to register in advance in order to secure the desired date and the discounted price
Reduced admission price from € 5.95 (instead of € 7.95 on site) per student & 2 teachers free for every 15 students
Preferential admission without waiting
Personal greeting of registered school classes
SEA LIFE visitor supervisor in the aquarium
Lectures from our underwater experts and answering all questions
various tours can be booked on request
Free download of teaching and work materials for the classroom
Also included:
all 1st - 2nd grades receive a SEA LIFE coloring poster per student
all 3rd to 6th grades receive a SEA LIFE quiz book per student
further options: age-appropriate tours can be booked on request
Large photo and a download link for everyone: € 8 instead of € 10 (bookable in advance in the booking center)