Fishmas Activity Guide
We've highlighted five of our wintery sea creatures located throughout our aquarium. Talk to our SEA LIFE educators and fill in your activity sheet to earn a special prize!
Be sure to grab an activity guide on your way inside!
Book a Visit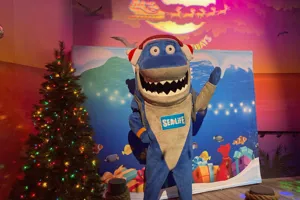 Meet Sharky
Friday - Sunday
Meet our pal Sharky in his festive grotto! Take a picture with the friendliest shark in the ocean and celebrate in true "Florida Holidays" style.
Book a Visit
Even More Fun!
Before you go, make sure to leave a special holiday card for your favorite SEA LIFE sea creature! Drop it in their stocking on your way out so our creatures can get all of their cards in time for the holidays.
Enjoy our holiday decorations throughout the attraction and see if you can find all the decorations we've put into our tanks. Sea creatures need holiday cheer too!
Book a Visit