Pirate weeks July 9th u.i. September 4th
Hunt for the treasure of the captain
July 9th u.i. September 4th 2022
The captain has washed ashore at SEA LIFE Scheveningen. But this clumsy captain didn't secure his loot properly and has now lost it. He also lost part of his crew. Will you come and help him during the Pirate Weeks?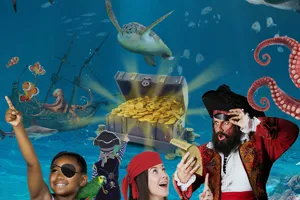 Hunt for the treasure
The clumsy Captain has lost his treasure. Can you help him find it back? Go for the scavenger hunt and tell the captain where to find his loot again.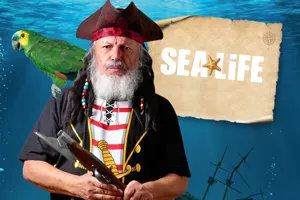 Pirate training
Not for the faint of heart: Become a real pirate. Are you brave and fearless? Come and show it to the captain in SEA LIFE! During the Pirate Weeks we will put your pirate talent to the test. Come fight with hairy Harry or show your pirate mark. Can you join us on the captain's next journey?
Buy your tickets now
Guaranteed entrance with timeslot
Children under 3 years are free of charge