Missed out on tickets?
SEA LIFE Glow is now officially SOLD OUT! Missed out on tickets? Sign up to our mailing list below to be the first to know about our upcoming events and special offers!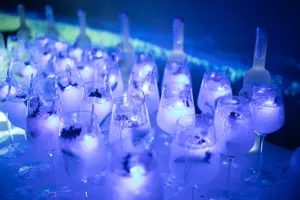 SEA LIFE GLOW - SOLD OUT
SEA LIFE GLOW invites guests to rediscover SEA LIFE Sydney Aquarium this winter, after dark. The iconic Sydney attraction will be reimagined as a glowing nighttime playground for adults. With pop up bars, food stations, and entertainment throughout the venue guests will explore an underwater world of glowing corals, bioluminescence & sea creatures.
Guests will be able to book one of three time slots to enter the SEA LIFE Sydney Aquarium, away from the daytime crowds. Greeted with a drink on arrival (choice of red, white & sparkling wine, house beer, soft drinks & juice) guests will then be invited into the glowing world of the aquarium after dark, with light dancers, roving performers, unique insta-worthy photo opportunities (created by Sugar Republic), a tasty gourmet BBQ station (included in your ticket) and pop up bars throughout the venue, SEA LIFE GLOW offers a truly unique experience this winter.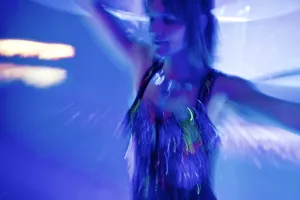 Ending in our Day and Night on the Reef Zone, this panoramic underwater venue will transport guests to the Great Barrier Reef where they can explore a glowing world of jellies, splash through waves of bioluminescent algae on a moonlit beach, view glowing corals and search for the shadows of predators, active on the night-time reef.
Our DJ & Dancefloor will be set under a wave frozen in time, revealing a whole new spectrum of colour and creatures. This is the aquarium's largest Ocean Tank vista with floor to ceiling viewing & will allow guests take in the full beauty of the Great Barrier Reef as they dance the night away.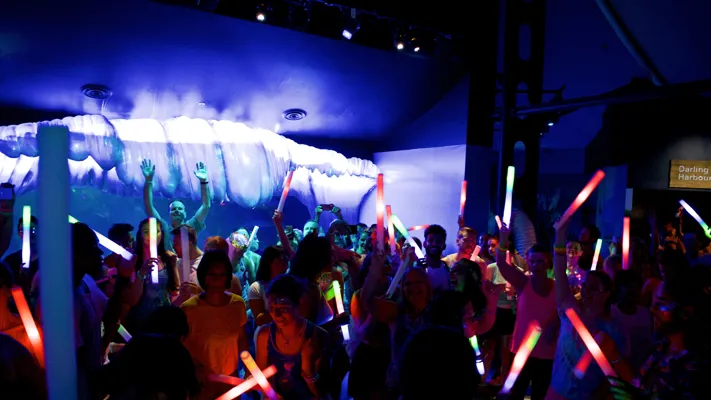 Event Details
Dates: June 10, 11, 12, 17, 18 & 19th 2021
Time: 6pm - 10pm
Tickets: Dine & Discover vouchers are accepted!
$55 per person (general admission)
$75 per person for premium package (incl. Glow Cup, Fairy Floss, Glow accessory)
Your ticket includes:
After hours entry to SEA LIFE Sydney Aquarium
Free Drink on Arrival + Access to bars throughout the event
Gourmet Sausage Sizzle (V, VG & GF options available – 1 food voucher per guest).
Entertainment throughout the event
SEA LIFE Conservation Learning Station
DJ & Dancefloor
GLOW Photobooth
Book Now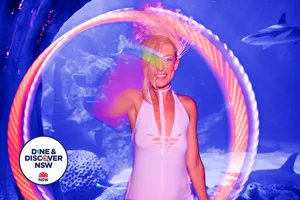 Use your Discover Voucher
Save an extra $25 off your SEA LIFE Glow ticket when you use your Dine & Discover Voucher! Simply enter your discover code on the checkout process to book & save!