Fun Things to do With Kids In Sydney
Friday 15th February 2019
Sydney, Family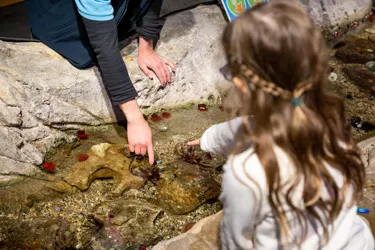 When it comes to taking the kids out for the day in Sydney – the fewer logistics, the more you'll all enjoy yourselves. Your best bet is to head for an area where there's lots on offer so you can mix it up and keep everyone entertained. Having the option to make the most of both the indoors and outdoors is a no-brainer for kids that are full of beans. Here are some ideas that will bring you the best of both worlds.
Sea Life Sydney
With over 13,000 magnificent creatures, your kids are sure to be mesmerised by our watery exhibits. They can get up close to over 700 species throughout SEA LIFE Sydney's themed aquarium habitat zones; the brand new Day & Night on the Reef, Jurassic Seas, Penguin Expedition, the hands-on Discovery Rockpool, Shark Valley, Dugong Island and Sydney Harbour. The little ones will learn all the underwater secrets, get some fun fishy stories and see the seahorses.
Make it Educational
Kids love to learn while they're experiencing the world. Before you head out to the watery world of all things under the sea, take some time to learn about the creatures you'll be seeing. Look up some fish species and try drawing them, make a crafty crocodile out of an old egg carton, watch some David Attenborough penguin documentaries and find out all about Dugongs.
Rain, Hail or Shine
One of the best things about immersing in all things marine is it's an all-weather activity. Whether the sun is shining or it's bucketing down outside, you can still enjoy your day at SEA LIFE Sydney Aquarium. Beat the bad weather blues with an excursion to hang out with the best the ocean has to offer. 
Darling Harbour Done Well
An iconic Sydney day isn't complete without catching a ferry. Whether you score a ride on a classic yellow and green beauty or a classy catamaran, this floating fleet will take you anywhere you want to go on Sydney's incredible harbour. To make the most of your trip to SEA LIFE Sydney, take the ferry to Darling Harbour and sail your way to see the creatures of the sea.
If you're looking for more fun, the kids will love the playground at Darling Harbour. As one of the city's best, it offers everything from water games, climbing ropes, swings, slides and flying foxes to keep them busy for hours. There's also Tumbalong Park if you're looking for somewhere where your little ones can run free.
Make a Day of it
After you've finished your ocean adventure and had a look at all the underwater habitats, you can extend your entertainment by visiting the Sydney Zoo and Madame Tussauds while you're in the area. Because a lot of our wild animals like to keep to themselves, this zoo lets you lock eyes with an array of unique mammals, birds, reptiles and fish; right in the heart of the city. To top off your day, take a selfie with some history's most famous and infamous; from the past to right now. This one-of-a-kind attraction sports life-like exhibits, and even some superheroes for the kids to 'wow' over.
You can say you covered fish and sea life, as well as Australia's amazing mammals, marsupials, monotremes and reptiles, and some of the world's most prominent celebrities. That's a whole lot of creatures and features in one place.
Buy your tickets for SEA LIFE Sydney online and save up to 20%! 
Book Now