Recovering an Endangered Species
A world first conservation project to help an endangered species
To help declining populations of the White's Seahorse recover, our team here at SEA LIFE Sydney undertook a breeding program. Wild seahorses from Clifton Gardens were moved to the aquarium where they gave birth to hundreds of babies. These baby seahorses grew healthy and strong and in May 2020 they were release onto the Clifton Gardens swimming net and nearby seahorse hotels. The project has continued for its third year in 2022.
Watch the videos below to learn more about the project and the seahorse's journey. 
Love seahorses and want to support our work? Donate $1 below to help support the SEA LIFE Trust and our local seahorse conservation project. 
Second Year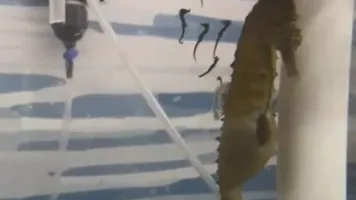 New year, new babies!
A herd of babies each smaller than a grain of rice emerged from their dads' pouches in the final months of 2020, with a few dozen arriving just two days before the new year rolled around. Their arrival marks a successful start to the second year of the White's Seahorse Conservation Breeding Program initiated by SEA LIFE Sydney Aquarium, Fisheries NSW and the University of Technology Sydney.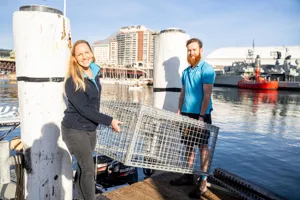 Seahorse Hotel Building
In March our team here at SEA LIFE Sydney began building seahorse hotels to continue the restoration of the local seahorse habitat.
Seahorse Hotels start as artificial habitats that grow into natural habitats once they are placed in the marine environment. Over time they are grown over by corals, sponges and algae that colonize these structures providing protection from predators and a ready supply of food and making them the perfect home for seahorses.
Some members of the local community and a range of staff from all areas of the business even come along and helped out!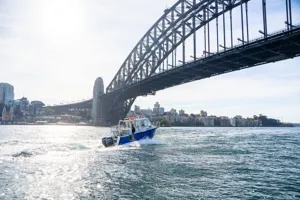 18 New Seahorse Hotels Deployed in Sydney Harbour
In time for World Oceans Day in June 2021, the team at SEA LIFE Sydney Aquarium placed 18 new seahorses hotels in Delwood Beach and Little Manly to provide vital housing for the next colony of baby Endangered White's Seahorses. 
In a few months time, these hotels will be begin to grow into natural habitats for seahorse populations around the harbour.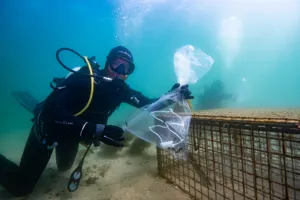 Seahorse Babies Released!
In September 2021, over 140 aquarium-bred, baby White's seahorses were been released into the wild across two Sydney Harbour locations as this threatened species recovery project gains yet more momentum in its hugely successful second year.
Commenting on the release of over 140 seahorses to Delwood Beach and Little Manly today, Laura Simmons, Curator at SEA LIFE Sydney Aquarium, said, "We're now in year two of a multi-year project that aims to recover the Endangered White's seahorse. I'm extremely proud that today we saw over 140 tagged White's seahorses released into the wild, where we hope they'll go on to breed all around Sydney Harbour and the East Coast of Australia to help White's seahorse flourish. Today was a major milestone in the long-term, collaborative effort to recover and eventually de-list this species."
First Year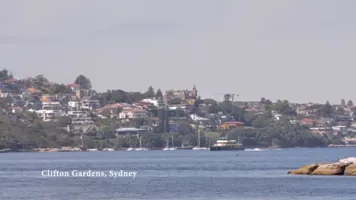 The Project Begins
To help recover declining populations, SEA LIFE Sydney Aquarium began implementing an exciting new breeding and conservation project in collaboration with a suite of organisations including the NSW Department of Primary Industries (DPI) Fisheries and the University of Technology Sydney (UTS) who are their two main partners. The project aims to successfully breed, raise, and release White's Seahorse back into the wild and monitor their success in helping reverse the decline of this iconic Endangered species.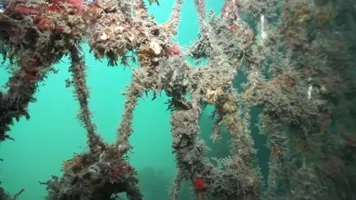 Seahorse Hotels launched in the Harbour
The primary cause for the White's Seahorse decline is the loss of natural habitat across their range. To help recover populations, suitable habitat must be available for the seahorses to live on. The sheltered bay at Clifton Gardens provided an ideal location to install seahorse hotels, and simulate the natural habitats which have been lost.
Inspired by lost crab traps, these seahorse hotels start as artificial structures then grow into natural habitats once they are placed in the marine environment. Over time they are grown over by sponges and algae, making them the perfect home for seahorses.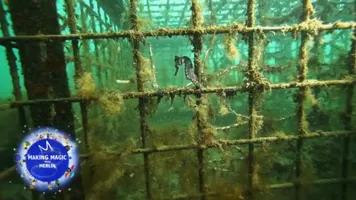 Endangered White's Seahorse Released
In a landmark event ten months in the making, a group of aquarium bred White's Seahorses have been released into Sydney Harbour as part of a critical conservation project aimed at helping recover this iconic Endangered species.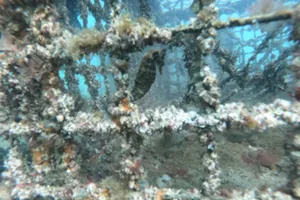 Project deemed a success
Babies born into a custom-built seahorse breeding facility at SEA LIFE Sydney Aquarium were released in Clifton Gardens in Mosman in May and have since been observed weekly by a special team of divers under the guidance of a UTS Masters Research Student.
Robbie McCracken, a SEA LIFE Sydney Aquarium Aquarist and seahorse expert said the babies are growing well in their new natural environment so-much-so that we are hoping they will begin pairing off and taking part in the upcoming summer breeding season.
General Admission
Online From
$39.20
Per Adult
Price includes Digi Photo Pass with 8 digital photos included – valued at $26!
Get your ticket on your phone

| | | |
| --- | --- | --- |
| Ticket Type | Price on the day/School Holidays/Weekends | SAVE 20% - Pre-book online in advance on weekdays |
| Adult | $49 | $39.20 |
| Child (3-15 yrs) | $36 | $28.80 |
| Student or Senior* | $39 | $31.20 |
| Child (0-2 yrs) | FREE | FREE |

 

*All concession holders must have a valid concession/student/health care card to gain access to the attraction with a Student/Senior ticket.

Guarantee entry by booking online