Join SEA LIFE and the SEA LIFE Trust in the war against litter
As lockdown restrictions start to ease across the UK and with summer weather soon approaching, our marine experts at SEA LIFE and the SEA LIFE Trust are appealing to the public to remember to put their litter in the bin when venturing outside.
Last year, as restrictions eased and more people ventured outside, our wonderful marine life suffered untold damage – from city canals to rural beaches, the effect was felt in waters across the UK. Wave after wave of litter and rubbish was left to drift into our precious waters, having the devastating effect of polluting the home of thousands of animals and causing immediate danger to life for those caught up in it.
Here at SEA LIFE and the SEA LIFE Trust, we are launching the "Don't make Easter rubbish" campaign to prevent this occurring again, reminding visitors across the UK that the amazing creatures that live in our seas continue to need their love and protection - now more than ever.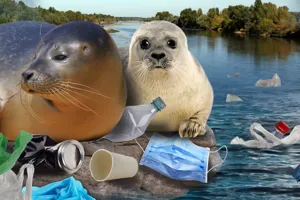 Plastics and waterways - what's the damage?
It's not just affecting animals today – this will have a significant impact for the long-term future of our waters and ecosystems too. It is estimated that 8 million tons of plastic waste enter the world's oceans each year and that by 2050, the oceans could have more plastic than fish.
Our SEA LIFE and SEA LIFE Trust teams across the UK take part in regular beach and waterway cleans, where the most common items found are plastic bottles and bottle tops, straws, food wrappers and cigarette butts.
Sadly we're now starting to see disposable face masks too. Our partners at Marine Conservation Society found these on 30% of beaches cleaned last year. This isn't an easy fix – disposable face masks can take up to 450 years to break down in the environment.
Litter like face masks getting into waterways poses a huge risk to hundreds of wildlife species, including seals, seabirds, turtles and whales, all of whom have mistaken marine litter for food, resulting in starvation, poisoning and fatal stomach blockages.
Amount of time it can take for litter items to biodegrade:
Cigarette butts – 10+ years
Coffee cup – 50 years
Plastic bags – 20-50 years
Crisp packet – 80+ years
Straws – 200 years
Plastic bottles - average 450-1000 years
Single use face masks – 450+ years
Danger of Microplastics
Plastics can also breakdown and create Microplastics. Microplastics are fragments of plastic – under 5mm in length – which are then small enough to enter the environment, marine life and eventually humans! Evidence of microplastics can be found throughout our seas and oceans, but also in rivers, soils, and also in the tissue of animals and plants.
It is estimated that there are 5.25 trillion plastic particles in the world's oceans – that's nearly 700 pieces for every person on the planet!
Case Study: Seal Pup 'Brian May'
A young grey seal pup, nicknamed Brian May, was discovered in an emaciated state and subsequently rescued by the SEA LIFE Trust Cornish Seal Sanctuary. After a few days care from their specialist care team, he excreted pieces of a plastic bag which had been blocking his gut. Luckily with the team's help, Brian was able to make a full recovery and was released back in to the wild. A good ending for him but sadly not all marine life is so lucky.
Remember to pledge your support, to help protect marine animals like Brian May for generations to come. Text RUBBISH to 70085 to donate £5 (texts cost £5 plus one standard rate message) or click below!
Make a donation