SEA LIFE Timmendorfer Strand, Seagrass Bed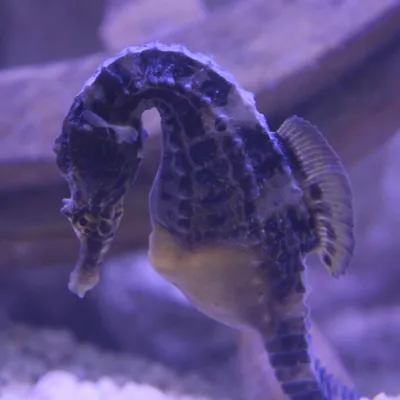 About seahorses
Seahorses (scientifically called hippocampus since the 1570s) can be found in all oceans. In ancient Greece, seahorses were called "hippocampus", which in Greek mythology means a sea monster. Although seahorses can move their eyes independently - so they can look forward and backward at the same time - we don't think that our seahorses are monsters.
Nutrition
Seahorses feed primarily on plankton that swims in the sea water. Generally they hold on to sea grass with their tail to avoid drifting away with the current. Here they wait for food that they can eat as they swim by. Also small crabs or shrimps are on the menu of the seahorses.

Habitat
Seahorses live in the warmer seas like around South Australia and New Zealand, where most of them live. So far there are over 42 recognized species, which differ in size, color and habitat.

In Europe, seahorses can be found in the Mediterranean, on the European Atlantic coast and around the Canary Islands. 
Appearance
Seahorses remind of a horse from the head, the rest of the body resembles however rather a worm. As one can already assume, these sea-inhabitants have the name from its outer appearance.
Worth knowing
The seahorse is very popular among many of our visitors and has also made it onto the coat of arms of the municipality of Timmendorfer Strand in Schleswig Holstein.
Unfortunately seahorses are threatened with extinction due to the increasing pollution and destruction of their natural habitat. In addition, every year around 150 million seahorses are caught and killed for use in traditional Asian medicine.