SEA LIFE Timmendorfer Strand, Tropical Ocean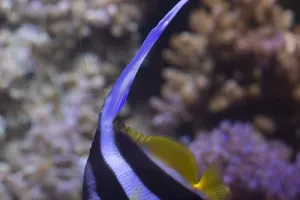 About Heniochus
Heniochus - or banner fish - have a high, laterally flat body. The first rays of the back-fin are extended and give the fish its name.
Through its physique, banner fish are no enduring swimmers, can be quite fast on short routes, however! This is especially advantageous on coral reefs, where the banner fish can hide quickly in crevices.
If two banner fish meet in competition, they lower their heads and raise their banners. The opponents then face each other forehead to forehead and press their banners together.