April the rescued turtle travelled more than 5,000 miles by land, sea and air to her new forever home in SEA LIFE Loch Lomond
April, an Olive Ridley Turtle, was discovered floating on the ocean surface in Raa Atoll in the Maldives entangled in ghost netting with a plastic bag around her neck. April was already missing her right front flipper due to a ghost netting entanglement and her left front flipper was wounded by friction from the plastic bag. An x-ray later revealed she was also suffering from a lung infection, with possible tears in her lungs. 
Despite the loving care April received at the Four Seasons Turtle Rehabilitation Centre, which seen her flipper heal and her energy return, her ongoing buoyancy issues make a return to the wild impossible. Instead, Marine Savers' Flying Turtles Project, SEA LIFE and its official conservation charity, the SEA LIFE Trust, teamed up with IAG Cargo to fly April to her new home in Loch Lomond.
Meet April!
• April will be housed in the Coral Reef area at SEA LIFE Loch Lomond, which closely replicates April's natural habitat back in the Maldives
• April is an ambassador for the effects of plastic pollution and visitors will be able to see first-hand how our sea creatures can unfortunately be harmed by plastics in the ocean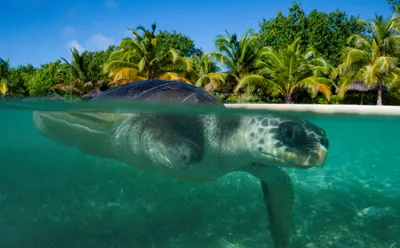 April's Journey
April travelled 5,000 miles from The Maldives - it was a continent-spanning journey that required an oceanic level of planning and saw April travel first by speedboat then by plane to Glasgow via London, and on to a traditional bagpipe welcome at Loch Lomond.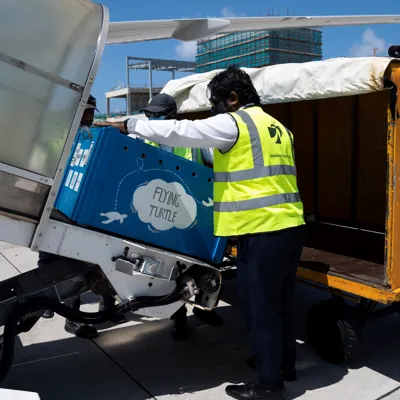 The Flying Turtle
We are thrilled to welcome April to the Loch Lomond family, she has settled in brilliantly.
The work carried out by the Marine Savers team in the Maldives has been amazing and it's remarkable to see how well April has recovered. We're so proud of the hard work and dedication our team has to ensure the magnificent creatures in our waters are cared for and live a happy danger-free life, and April is yet another example of this.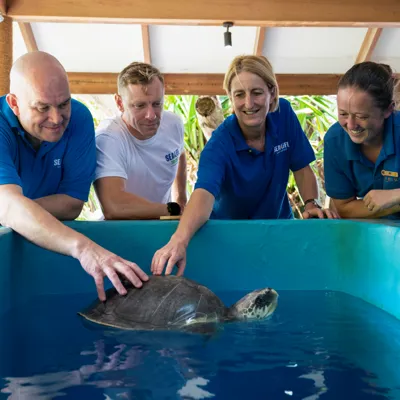 Turtle Rescue and Rehabilitation
SEA LIFE Loch Lomond will mimic the environment that April the turtle would naturally inhabit in the Maldives.
Unfortunately, because of her injuries, sustained through plastic pollution, if April were to be released into the wild she would not survive as she lacks the buoyancy required to dive for food.
For that reason, SEA LIFE embarked on the mammoth effort to move April the turtle, allowing her to lead a healthy life within her new home from home at SEA LIFE Loch Lomond and raising awareness of the plight that Olive Ridley Turtles face in the wild.