An unforgettable birthday experience!
The children dive into the dazzling underwater world and go on an adventurous hunt for treasure amidst sea and rainforest creatures. There is so much to discover, learn and marvel at on an exciting search for it!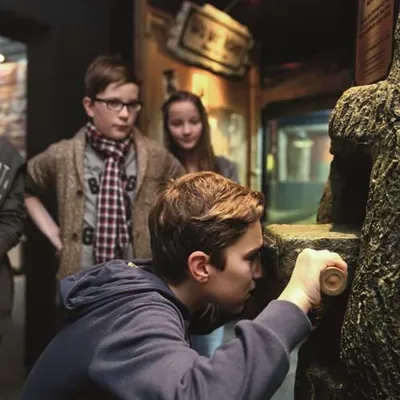 Standard Birthday Package
FREE ADMISSION for the birthday child
An exciting treasure hunt with quiz questions
Treasure chest to fill with your own treasure
Free SEA LIFE Premium Annual Pass for the birthday child as a gift
More info:
Minimum 5 paying birthday guests (15€ per child) required
At least one adult must be accompanying (12€ per adult)
Free birthday child ticket will be added automatically to your cart
Book your birthday party now!
Unfortunately, we are not offering online bookings in English, but you can still host your birthday party at our attraction. Please continue to make your booking through our German booking portal if you are interested. We apologise for the inconvenience, and we thank you for your understanding.
Book through our German portal
Frequently Asked Questions
Experience shows that children aged between 4-11 years have the most fun at SEA LIFE.
But of course it also depends on the respective interests and other factors and can also be very exciting for some older children.
For example, we also offer children's birthday variations for different age groups. To make the birthday party an unforgettable experience, we adjust the level of difficulty of the questions to the age of the birthday guests and ask you to indicate this when booking: 5-6 years, 7-9 years or 10-12 years.
The pirate packages are suitable for children aged 5 and over.
Yes, a children's birthday party can be celebrated at SEA LIFE regardless of the weather.
Our exhibition is housed inside the building.
During your booked time and day, you go with your children's birthday group to the group entrance. There you pay for the children's birthday party and receive a welcoming for the birthday group (unfortunately, this can only be guaranteed for punctual groups). This is also where you hand over the treasure you want hidden in the chest, if you haven't booked one.
And off you go on your own exciting treasure hunt through SEA LIFE.
It's best to plan about one and a half to two hours for your stay.
On the way out, you'll pass through our souvenir shop. As this is always on the way, it's best to plan some time for the children to look around.
If you have booked the Pirate Package II, a table will be reserved for you in the restaurant (90 min. after booked arrival).
No, the birthday group will receive a welcome from us and then start the treasure hunt on their own - therefore at least one adult (over 18 years) is necessary as an escort. But don't worry, the treasure hunt should keep your kids busy.
You can also book an exclusive guided tour, where our SEA LIFE staff will guide the children's birthday group through SEA LIFE. Of course, the accompanying adult is still responsible for looking after the children.
We don't organise fully themed birthday parties, but these can of course take place at our centre. For example, invitations could include having all the children come dressed as jellyfish, starfish, clownfish, other sea creatures or even pirates.
Yes, you can choose the Pirate Package II, which includes the Kids Box for everyone (eg. chicken nuggets, Capri Sun, chips) and a lovely decorated table.
There is of course the option of dining in at the restaurant on site, even if this has not been booked (it will be cheaper to pre-book our package).
Unfortunately, for hygienic reasons, food that you have brought with you may not be eaten on site (except for baby food).
Yes, you are allowed to take photos in our aquarium. However, please make sure to turn off the flash beforehand, as marine life is very sensitive to bright light.
Of course, you can also have great souvenir photos taken at our photo point.
The treasure for the treasure chest can be booked additionally and is not included in the basic package.
You can easily add a "treasure" for the treasure chest from the souvenir shop for only 5€ per person. Alternatively, you can put together your own treasure in the shop in advance.
Of course, you can also bring your own treasure for the chest. Just remember to hand it in at SEA LIFE before the birthday so that it can be hidden.
Alternatively, you can buy small items for the children in the shop after the treasure hunt.
The basic birthday package costs €15 per child, additional adults pay €12. It is inclusive of free admission for the birthday child and one accompanying adult.
Yes, the minimum number of participants at required is 6 children (including the birthday child) and of course at least one accompanying adult.
You can also book an exclusive guided tour, where a SEA LIFE team member leads the children's birthday group through SEA LIFE. Of course, the supervisor is still responsible for looking after the children.
Yes, if you would like to celebrate a child's birthday with us, it must be booked in advance. Please note that some dates/timeslots may already be booked. So the earlier you book, the more likely your desired date will still be available.
As soon as you receive a booking confirmation from us, the reservation is binding. If you change your mind, please contact our support team in good time on the booking hotline 01806 - 66690101 (0.20 €/call from a German landline, mobile calls max. 0.60 €/call).
Unfortunately, we do not have an English online booking portal. You can book through the German birthday page from the button provided above.