Dive into the underwater world
Visit us as a school class and experience an unforgettable excursion together to our colourful underwater world. From the rainforest to the coasts of Europe, to the depths of the tropical ocean, you will experience a special kind of learning in this extraordinary environment!
We want to ensure that future generations can enjoy the biodiversity in our oceans too. We hope to inspire the pupils about the protection of oceans and arouse their curiosity for its inhabitants. Our free quizzes complement the visit and create a learning experience in an extraordinary environment, the knowledge of which can be grasped and deepened over the long term.
Unfortunately, we are not offering guided tours in English language, but you can still discover our attraction as English-speaking students. Please continue to make your booking through our German page if you are interested. We apologise for the inconvenience, and we thank you for your understanding.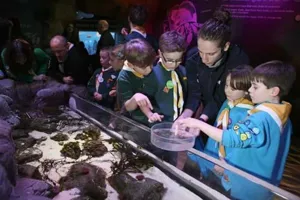 What you can expect
Discounted rate of 5€ per student
2 accompanying adults receives free admission per group
Each additional accompanying person pays only 5€
Preferred admission without waiting times
Personal greeting for the school groups
SEA LIFE visitor support in the aquarium
Lectures by our underwater experts and answer any questions
Suitable for all grades
Minimum 5 students for school groups
Valid Monday to Friday 10:00-17:00 (last admission 16:00), excluding school holidays in Rhineland-Palatinate