SEA LIFE Timmendorfer Strand, Rainforest Adventure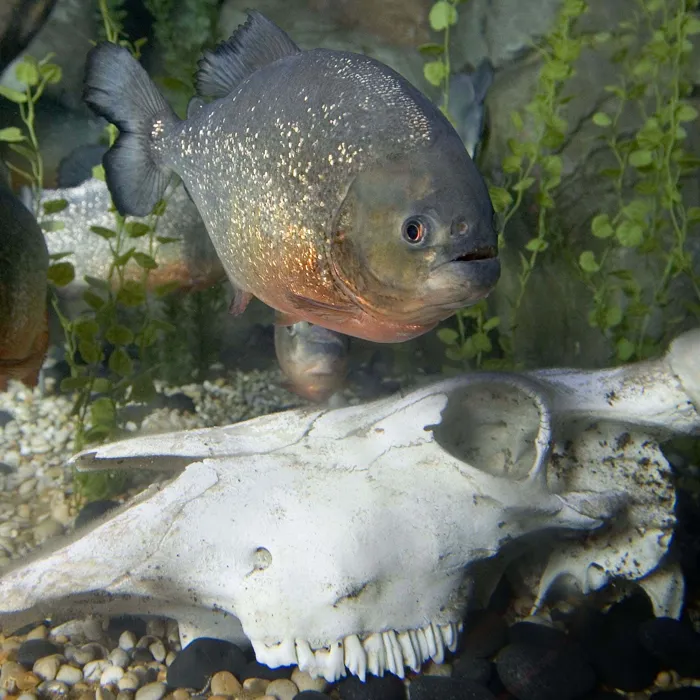 About the red-bellied piranha
Thirsty for blood, dangerous and aggressive. That is what many people think about piranhas. But what are they really like? 
Piranhas are predatory fishes that occur in the freshwaters of South America. They are schooling fish and only feel comfortable in a group. They don't join for hunting but for the better protection from enemies. These enemies are usually giant otters, gripping-birds, Amazon-dolphins, but also other Piranhas. 
Since they often hurt themselves mutually in the swarm while hunting, Piranhas are very good at wound-healing. They can live in nature for about 15 years and reach a size of up to 40 centimeters. In aquariums they get even older. There are piranhas that are up to 30 years old.
The most common piranha is the red-bellied piranha which you can also see at SEA LIFE Constance. Red-bellied Piranhas are usually only aggressive during brood-care or when they have to defend the group, with sick animals and with food-shortage. 
Daddy of the year: The males of the Piranhas practice brood-care. This ends with the buoyancy of the young fish.
Health police: In its habitat, Piranhas are regarded as health police. Since they usually hunt weakened animals, they make sure that no illnesses spread.
Grunts: Also among Piranhas, there are alpha-males. With illusory fights for the ranking, they bite into the water shortly before its opponent and make grunting sounds.