Birthday party incl. treasure hunt
Exciting treasure hunt incl. treasure for each child
Free admission for the birthday child & one accompanying adult
A special gift can be booked as an addon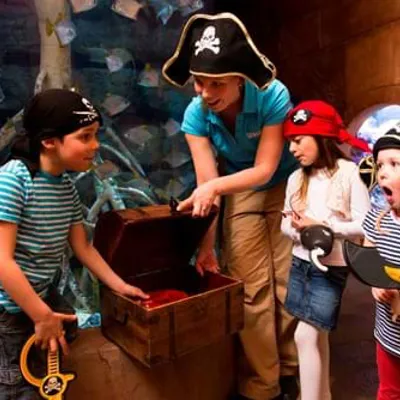 Birthday party for only 15€ per child
Free entry for the birthday child 
Free entry for one accompanying adult
An exciting treasure hunt through the depths of the aquarium, small treasure included
Day ticket for every birthday guest to SEA LIFE Oberhausen on the day of the birthday celebration
Welcoming of the birthday group at the group entrance
(only guaranteed for groups arriving on time)
You can choose your desired date and time, please note opening hours
Plan for a stay of 2.5 - 4 hours
Requires a minimum of guests: 6 children incl. birthday child
Additional options:
Gift package for 5€ per child
Pirate treasure hunt
Are you brave? Are you ready? Then look forward to a very special adventure with your fearless pirate crew at SEA LIFE Oberhausen. Search for the hidden treasure! Will you become a real SEA LIFE pirate and find the treasure?
Children's birthday invitation and coloring pictures
Print your birthday invitation now and invite your friends! Or just print out painting templates and surprise your friends.
FAQ
Experience shows that children between the ages of 4-12 years have the most fun at SEA LIFE. 
But of course this also depends on the children's interests and other factors and can also be very exciting for some older children.
Our additionally bookable guided tour is suitable for children from 6 years on.
Yes, a child's birthday can be celebrated in SEA LIFE regardless of the weather.
Our exhibition is located inside the building.
At the booked time and day you go to the group entrance with your child birthday group. There you will pay for the children's birthday party and receive a welcome message for the birthday group. Here you will also hand over the treasure you want to have hidden in the chest if you haven't booked an extra one.
Soon the treasure hunt starts!
Plan for your stay about one and a half to three hours.
Please contact the restaurant after the treasure hunt if you have booked the food package.
If you have booked the gift pack, each child will receive a surprise from our store at the end of the treasure hunt.
The birthday group receives a greeting from us and together with the SEA LIFE captain they go on a hunt for the lost treasure. The additional accompaniment of an adult (over 18 years) is required.
We do not organize completely themed birthdays, but these can of course take place at our attraction, e.g. invitations could include that all children should come dressed as jellyfish, starfish, clown fish, other sea creatures or pirates!
For hygienic reasons, you are not allowed to bring your own food to the restaurant (except baby food). 
In our restaurant you can also choose from a variety of dishes, from cake, chips with schnitzel to crisps and chocolate bars.
Yes, you are allowed to take pictures in our aquarium. However, please make sure to turn off the flash beforehand, as marine life is very sensitive to bright light.
Of course you can also have great souvenir photos taken at our Foto-Point. 
This is not included in the standard package.
If you book the gift package, all children will receive a maritime surprise from our shop for €5 per person.
Of course you can also bring a treasure for the chest yourself. Just remember to drop it off at SEA LIFE before the birthday so that it can be hidden.
Alternatively, you can of course purchase small things for the children in the store after the treasure hunt.
The basic birthday package is 20€ per child. This includes FREE ENTRY for the birthday child and one adult.
Yes, the minimum number of guests at SEA LIFE Oberhausen is 6 children (including birthday child) and a maximum of 12 children. At least one accompanying adults is required per group.
Yes, if you would like to celebrate a child's birthday with us, it must be booked in advance. Please note that some times may already be booked. Early registration is recommended (at least two weeks before the desired date). The sooner you book, the more likely the desired date is still available.
You can easily book your children's birthday party online on this page.