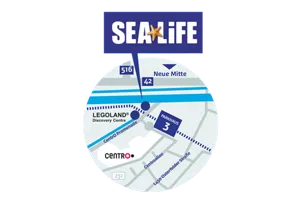 Where you find us
SEA LIFE Oberhausen is located directly at the CentrO mall.
Our address: 
SEA LIFE Oberhausen
To the aquarium 1
46047 Oberhausen
Phone: +4973114611-5333
How to get here
Arrival from the A42:
From the A42 take the exit "Neue Mitte". Then you can simply follow the SEA LIFE signs

Parking
Free parking is available at CentrO. Navigate to Centroallee 261 in 46047 Oberhausen and follow the signs. Please use parking garage 3 or 4. 
From Oberhausen main station, all buses and streetcars leave from bus platform 1 to the "Neue Mitte" stop.

Bus lines: SB90 to Holten Markt, SB91 to ZOB Berliner Platz, 957 to Grasshofstr., SB98 to Fröbelplatz 
Streetcar line: 112 direction Neumarkt
From here it is a 10-15 minute walk along the CentrO Oberhausen directly to SEA LIFE Oberhausen.