Coming to SEA LIFE Oberhausen in December
Get ready for the interactive gaming experience of the future. In teams of 2-6 players you face a wide variety of challenges. Whether on a date, having fun with friends or as a company event: Master all levels together with your team in a unique, new gaming experience.
Choose between 30, 60 or 90 minutes of game play
Discover a unique game library: from "Squid Game" and "Psychedelic Mansion" for adults to "PAW Patrol" and "Angry Birds" for families
Experience an immersive gaming experience that combines motion tracking, projection mapping, touchscreens and surround sound
How to find us
Immersive Gamebox is located directly at SEA LIFE Oberhausen:
Zum Aquarium 1, 45047 Oberhausen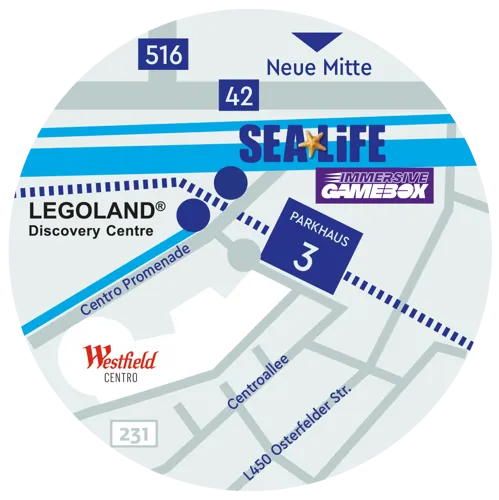 From the A42 take the exit "Neue Mitte". Then you can simply follow the SEA LIFE signs
Parking
Free parking is available at CentrO. Navigate to Centroallee 261 in 46047 Oberhausen and follow the signs. Please use parking garage 3 or 4. 
From Oberhausen main station, all buses and streetcars leave from bus platform 1 to the "Neue Mitte" stop.

Bus lines: SB90 to Holten Markt, SB91 to ZOB Berliner Platz, 957 to Grasshofstr., SB98 to Fröbelplatz 
Streetcar line: 112 direction Neumarkt
From here it is a 10-15 minute walk along the CentrO Oberhausen directly to SEA LIFE Oberhausen. 
FAQ
While we can't promise that we'll be able to fit you in, the best thing to do is turn up as close to your booking time as possible (remember, your arrival time is 10 minutes before the session is due to start) and our team will do everything they can to get you into a Gamebox. Please be aware that this may include playing a shorter game.
We have games suitable for ages 3 and up, but not all games are suitable for young children. PAW Patrol is a perfect family experience for those with young children aged 3+. For families with children aged 5+ we would also recommend Shaun the Sheep, Angry Birds and our Junior Bundle. All other games are suitable for ages 8+ to adult, with the exception of Squid Game which we recommend for ages 16+. Children under the age of 12 must be accompanied by an adult for the duration of the experience.
Children under 3 are very welcome to be inside the Gamebox and watch but unfortunately they cannot play the game. You will not need to purchase a ticket for under 3s, but please bear in mind the experience is heavily sensory and may not be suitable for children of this age as a result. Gameboxes hold a maximum of 6 people and this includes any younger children not participating.
We have different length games and bundles so the amount will change depending on what adventure you'd like to play and when you want to visit us! You'll be able to see prices when you're booking your tickets.
Please wear sensible footwear: flat shoes or trainers, no open toes or heels. We advise wearing just one layer, as you may get warm when being active in the Gamebox!
You will be moving around your Gamebox as the controller of the game, however our games aren't too physical and all activity is contained in one Gamebox, so you don't need a specific level of fitness to play.
Our gameboxes hold a maximum of 6 players so when making your booking our system will automatically reserve multiple game boxes to accommodate your group size. You will need to split the group into teams and you will all play at the same time.