Plan your visit
Anticipate your visit and transform your School's experience into a unique moment of leisure and learning.
Here are some ideas:
Before visiting SEA LIFE Porto, let's draw a clown fish, a shark, a puffy fish and a ray. On the day of visit, bring your drawings, so that you can compare with the real fishes, at SEA LIFE Porto. What are the differences? In the end, after already having seen them live and in colour, draw them again and create an aquarium in the Classroom!
The environment in which an animal or plant naturally lives is called its habitat. Imagine you are a blue tang, just like Doris from Finding Nemo. A blue tang lives in reefs. Build its habitat - fauna and flora - and then compare it with the ones made by your colleagues. In the end, the teacher helps to measure the compatibility of each of the added elements to the several habitats.
SEA LIFE Merit Certificate
Welcome to the big SEA LIFE community! Now that you've visited it with your school, we invite you to return with your parents, with a 30% discount! Come and visit the friends you've made at SEA LIFE Porto and surprise your whole family with your knowledge of the awesome universe of marine life.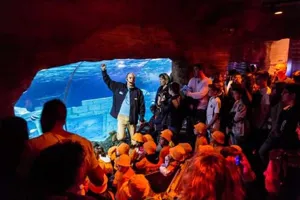 Guided Tour
Turn your visit even more fun and interactive
SEA LIFE Guidebook - for only an additional 2.95€. A book to complement the visit and the intellect, while introducing fun trivia about our fishes. Discover our SOS Preservation campaigns. An excellent acquisition for your school's library.
Guided educational and entertaining tour - for just €1.80/1.90€ extra per child, the guided tour is a unique opportunity to discover all the curiosities about our residents. The punishments for misbehaviour, the home changes, the diets, the follies, tantrums and antics of our fishes, the ones arriving and others leaving. But also, very importantly, the guidelines for behaviour that everyone should take to preserve biodiversity in the oceans.
Schedule Your Visit Now!
Step 1: Send visit details (name of school, number of children, date of visit and contact information) to the e-mail escolas@merlinentertainments.biz or by fax: +351 226 190 409.

Step 2: Wait for our reply. We will confirm your reservation within a maximum of 72 hours, after receiving your information.
When in doubt or to obtain more information on the Fantastic Visits to SEA LIFE, please contact us by phone: +351 226 190 403