An Unique Experience
Have you ever imagined having contact with a giant 140kg Green Turtle? And feed her?
Now it's possible at SEA LIFE Porto!
This VIP Experience happens behind the scenes on the main tank of the center. It includes permanent follow up for our cast members.
Doesn't it seems fantastic?
We know that it seems fantastic but before your visit, you must notice some details:
The experience is limited to a maximum of 4 people (adults and children);
The experience has to be scheduled in advance according to the mealtimes (11am and 2:30pm everyday) via form or phone call - this reservation is to make sure we are available to receive you in the best conditions!
You should arrive at the center at least 15 minutes before the start of food;
All minors must be accompanied by an adult, who must have their ticket as well;
If you have any questions or to make an appointment, please fill out the form below.
Unfortunately, the Turtle Feeding VIP experience is not yet available for wheelchair users due to access via stairs.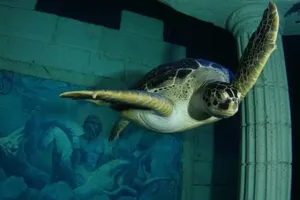 It includes:
Visit to SEA LIFE Porto
Guide Book
Backstage access of the main aquarium
Turtle Feeding Session
10% discount in store (except photography and food)
Book now
Includes access to the feeding sessions and lectures
Come back as many time as you like during the day
Includes guide book to find out all about our creatures!
Backstage access of the main aquarium
Includes exclusive feeding session of our turtle Mariza (subject to appointment)