Wedding Proposal Experience
Does your partner love the ocean and its beautiful creatures? Or maybe you're just looking for the ultimate proposal event. SEA LIFE Porto can help! This unique experience will help you create an extra special day with memories that will last a lifetime!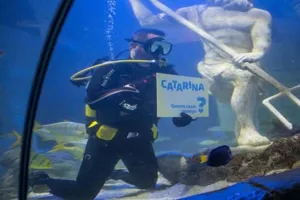 It includes:
Priority access to the aquarium
Help from our expert divers, who submerge themselves in our spectacular Ocean tank holding up a personalised sign.
A photo to capture your magic moment!
A small bottle of bubby to celebrate
Then you can spend the rest of your day at the centre and even take home your personalised sign.
Interested? Our Wedding Proposals package are subject to availability. Please note bookings need to be made at least fourteen days in advance.