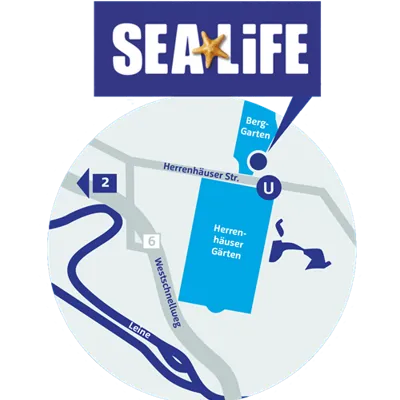 SEA LIFE Hanover is located directly in the Herrenhausen Gardens Hanover.
Public parking spaces and a multi-storey car park are nearby. There are many ways to get to SEA LIFE Hanover, we recommend public transport.
Our Adress:
SEA LIFE Hannover
Herrenhäuser Str. 4a
30419 Hannover
Phone: +49 73114611-5329
SEA LIFE Hanover is located directly in the Herrenhausen Gardens Hanover and in the environmental zone of the city of Hanover. For the environmental zone you need a green sticker on your car. You can park in the P&R parking lots outside the environmental zone without a sticker.
Arrival from the A2:
From the A2, take the "Herrenhausen / Zentrum" exit to get onto the B6. Take the exit "Herrenhausen", turn right at the intersection into Herrenhäuser Straße. After approx. 1 km you will see the gardens and signs for parking.
Arrival via the B65 / B3:
If you are coming from the south, you can get to the B6 via the B65 or B3. The Herrenhausen Gardens are signposted from here.
Park
The visitor car park Georgengarten / Großer Garten at the Herrenhausen Gardens charges 3€ per started four hours, maximum costs per day are 12€. Coaches park here free of charge. (Other prices possible for events)
Address visitor parking space for your GPS:
Herrenhäuser Strasse 3c in 30419 Hanover
You can reach SEA LIFE Hanover in about 8 minutes from Hanover main station.
From Hanover main station on foot via Ernst-August-Platz and through Bahnhofsstraße to the Kröpcke underground station. From Hanover main station you can also take the underground lines 1, 2, 3, 7 or 8 to get to the Kröpcke underground station.
From there you take the underground line 4 in the direction of Garbsen or the underground line 5 in the direction of Stöcken to the stop "Herrenhäuser Gärten". The SEA LIFE Hanover is directly opposite the stop.
You can get tickets for the tram at Hanover Central Station.
You can easily reach the city of Hanover with Deutsche Bahn. For groups we recommend a Lower Saxony ticket with which you can use the local transport (RE, RB, S-Bahn) of the Deutsche Bahn and public transport in Lower Saxony, Bremen and Hamburg.
Up to five people can travel with the Lower Saxony ticket. Valid from Monday to Friday from 9:00 a.m. to 3:00 a.m. the following day and around the clock on weekends and public holidays.
Further information is available from Deutsche Bahn.