An unforgettable birthday experience!
The children dive into the dazzling underwater world and go on an adventurous hunt for treasure amidst sea and rainforest creatures. There is so much to discover, learn and marvel at on an exciting search for it!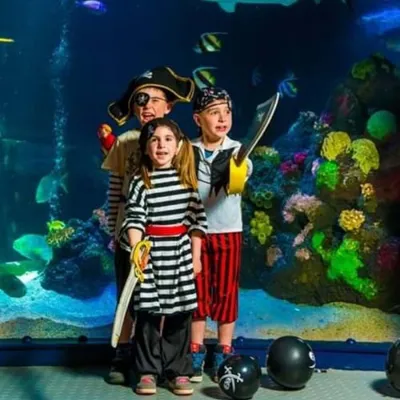 What's included in the package:
Free entry for the birthday child 
Free entry for one accompanying adult
Includes full-day admission to SEA LIFE Hanover for a maximum of 6 birthday guests (children)
Greetings for the birthday group
An exciting treasure hunt through the depths of the aquarium, small treasure included
Free SEA LIFE Hanover annual ticket for the birthday child as a gift
A slushy for each child
Additional options:
Additional children for 15€ per child (incl. gift and slush)
Additional adults for 10€ per person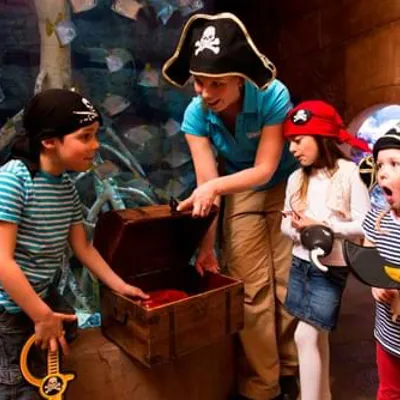 More info:
This package is only valid for one adult and up to seven children (incl. birthday kid) aged 3 to 14.
Additional adults or guests (children) can be booked on site.
Please book at least 3 days in advance with a time slot reservation
Unfortunately, guided tours cannot be booked at the moment.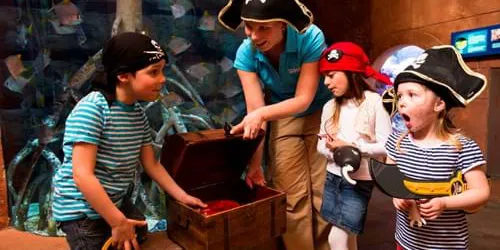 Pirate birthday package
Equipped with pirate hats and a treasure map that shows you the underwater world, you go on a hunt for treasure! After you have solved some tricky tasks, you will receive a numerical code for the hidden safe, which contains the last clue for the hidden treasure.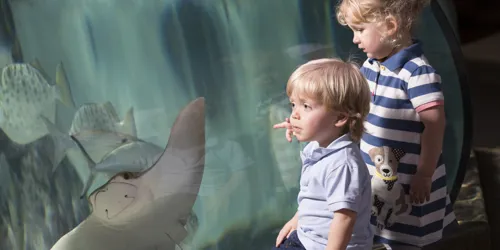 Ranger birthday package
Equipped with a ranger badge and a treasure map that shows you the rainforest, you go on a hunt for the treasure! After you have solved some tricky tasks, you will receive a numerical code for the hidden safe, which contains the last clue for the hidden treasure.
Book now!
Unfortunately, we are not offering online bookings in English, but you can still host your birthday party at our attraction. Please continue to make your booking through our German booking portal if you are interested. We apologise for the inconvenience, and we thank you for your understanding.
Book through German portal
Frequently Asked Questions
Experience shows that children between the ages of 4-12 have the most fun at SEA LIFE.
But of course it also depends on the respective interests and other factors and can also be very exciting for some older children.
For example, we also offer children's birthday variations for different age groups. Please be sure to let us know when booking if your wish differs from the normal treasure hunt.
We recommend our normal treasure hunt for children who can read (mostly 8-12 years).
Our location is housed indoors, a children's birthday party can be celebrated at SEA LIFE regardless of the weather.
At the reserved date and time, please go to the SEA LIFE Hannover entrance. There you register and we will have a welcoming for you and your birthday group (unfortunately, this can only be guaranteed for punctual groups).
Then off you go on your own exciting treasure hunt through SEA LIFE.
It's best to plan about one and a half to two hours for your stay.
On the way out of SEA LIFE to the Bistro, you will pass through our souvenir shop. As this is always on the way, it's best to plan some time for the children to look around.
In the case of a booked treasure hunt, each birthday group receives a welcome from us and then starts the treasure hunt on their own - therefore at least one adult is necessary as an escort. But don't worry, the treasure hunt should keep your children well occupied.
We don't organise full themed birthday parties, but these can of course take place at our centre. For example, these invitations could include having all the children come dressed as jellyfish, starfish, clownfish, other sea creatures or even pirates!
Yes, we have a small café with a selection of drinks, coffee and cake. If the weather permits, there are also nice seats on the terrace in front of the cafe, with a view of the pond. Unfortunately, it is not possible to reserve a seat.
For hygiene reasons, food you bring with you may not be eaten on site (except baby food).
Yes, you are allowed to take photos in our aquarium. However, please make sure to turn off the flash beforehand as marine life is very sensitive to bright light.
Der Schatz für die Schatztruhe ist für jedes Kind im Grundpaket enthalten.

Im Schatz sind mindestens drei Bestandteile pro Kind aus unserem Souvenirshop enthalten.
Das Geburtstags-Grundpaket kostet 95€.
Das ist im Geburtstagspaket enthalten:
Tageskarte für ein Geburtstagskind, maximal sechs Geburtstagsgäste (Kinder) und eine erwachsene Begleitperson
Begrüßung der Geburtstagsgruppe
Spannende Schatzsuche inkl. Schatz für jedes Kind (eine kleine Überraschung, der Schatz beinhaltet mindestens drei Bestandteile aus unserem Souvenirshop)
Ein Slushy für jedes Kind
Eine SEA LIFE Hannover Jahreskarte für das Geburtstagskind als Geschenk
Dieses Paket gilt ausschließlich für eine/n Erwachsene/n und bis zu sieben Kinder im Alter von 3 bis 14 Jahren. Das Geburtstagspaket ist ausschließlich online buchbar. 
Weitere Personen sind ausschließlich bei uns vor Ort zubuchbar:
Zusätzliche erwachsene Begleiter: 10,00€ pro Person
Zusätzliche Gastkinder (inkl. Geschenk und Slush): 15,00€ pro Person
No.
The package price includes admission for the birthday child, a maximum of six birthday guests and one accompanying adult.
Yes, if you would like to celebrate a child's birthday with us, it must be booked online in advance. Please note that some times may already be booked, so the earlier you book, the more likely the desired date will still be available.
As soon as you receive a booking confirmation from us, the reservation is binding. Should you not be able to hold the children's birthday party, please send us an email at Hannover@sealife.de. 
Unfortunately, we do not have an English online booking portal. You can book through the German birthday page from the button provided above.