Ahoy there me hearties!
Are ye ready for a game of golf like no other?
Get ready to board the Jolly Roger and join us for a game of Pirate Adventure Mini Golf at SEA LIFE Scarborough!
There be a new challenge at every hole, so jump aboard and navigate yer very own Jolly Roger round galleons, treasure chests and gunpowder barrels. 
Can ye conquer the tricky uphill hole with a single deadly shot? Do ye have enough skill to avoid the obstacles blocking yer way to the treasure? Can ye sink that magical "hole in one" into Davy Jones' Locker?
Pirate Adventure Mini Golf
Ahoy me hearties - up to 6 ship mates can embark on this Pirate Adventure game of mini golf
Book your time and be sure to arrive ready to play at the time of your ticket - Can ye sink that magical 'hole in one' into Davy Jones' locker?
This ticket does not include entry to SEA LIFE aquarium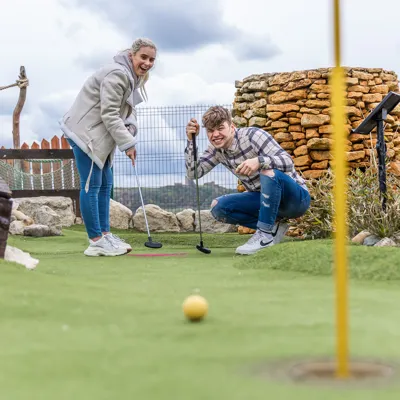 Important Information
With a few necessary changes, we invite up to 6 shipmates to embark on this swashbuckling game of golf every 10 minutes, if there's more in your crew please book 2 consecutive time slots.
Pirate Adventure Golf is open daily from 10.30am, with the last booking at 3pm
Booking on this 'ere website is essential, or else it'll be the plank for ye...
Book your time and be sure to arrive ready to play at the time on your ticket. Don't be late as there ain't no boarding once the ship's set sail!
We can't be 'avin any crews mingling so make sure you keep your distance around the course and pay attention to notices! There will be limited capacity on board at this time.
Maximum group size of 6 scurvy sailors per group (groups of over 5 please book two consecutive time slots - your crew will all be able to play together)