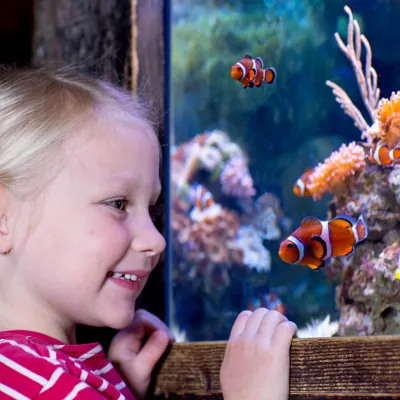 Ahoy! Unique Creatures Ahead at the Shipwreck
Dive into a shipwreck to spot some of the most unique creatures at SEA LIFE San Antonio. Be mesmerized at a technicolor reef full of live corals, count the schooling bannerfish, and wave hello to beautiful coral fish!
Don't miss our incredible six foot long green moray eel! This long and skinny fishy friend has two sets of jaws and tiny teeth!
WHOA - You Need to SEA This!
Be on the lookout for different species of wrasse! These colorful reef fish are part of the Labridae
The Shipwreck contains 3 different habitats in 6,000 gallons of curiosity.
Hundreds of creatures greet you in this unique Shipwreck experience - you may spot something new every time you visit!
Enjoy finding fishy movie stars like a clownfish and regal tang