Bring Your Stars to Meet Ours!
SEA LIFE Aquarium offers students the opportunity to explore the creatures that live in our lakes, rivers and oceans through interactive, hands-on experiences. From feeling the spiny skin of a Sea Star to gazing at sharks swimming overhead, spend the day exploring 10 marine exhibits, 3,000 sea creatures and 250 species in an immersive setting.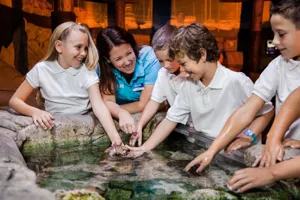 School Field Trips
Introduce students to a range of scientific topics and encourage excitement and curiosity about marine phenomena in the natural world. Ignite imagination and wonder in your class as students come face-to-fin with over 3,000 creatures and get closer than ever before! 
Reduced admission rates
Free chaperones (1:5 ratio)
Educational Programs
Self-guided learning resources
Online booking request
Please note: We are no longer accepting cash payment at any of our registers.
Submit Booking Inquiry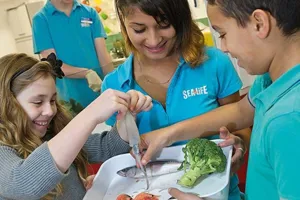 Education Workshops
Our SEA LIFE education workshops are currently under development. We hope to have them ready in 2023.
Our school programs explore animal behavior, habitats, adaptations, ecosystems, anatomy and water chemistry and are designed to meet Next Generation Science Standards. Workshops are available for students are all ages, Preschool through High School.
Curriculum linked activities
Programs meet Next Generation Science Standards
30 minute programs for PreK - 5th Grade
45-60 minute programs for 6th - 12th Grade
Before and after visit resources
Explore Programs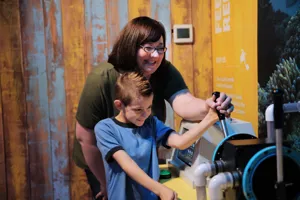 Teacher Resources
FIN-TASTIC experience for the School Year!
We are excited to bring to you a brand new mini classroom teaching unit that introduces elementary school students to focus on what is "Beneath the Tide" and allows students to explore coastal habitats! We also have great self-guided activities for students to do during their field trips. 
*Please note, at this time we are not currently offering education workshops. These new resources were designed with you in mind to help add additional educational content before, during and after your visit. We hope to relaunch on-site workshops in 2022! 
See What's New
Need More Information?
If you require further information on school visits please contact our booking team. We'll be more than happy to provide all the information you need to ensure your students have a memorable, inspiring experience.
Email: SAGroups@merlinentertainments.biz
Receive classroom content & latest news!
Subscribe to our Educator Newsletter and stay connected. We'll deliver our newest teacher resources, keep you in the know of any special offers, educator event invites, friends and family discounts, giveaways and more!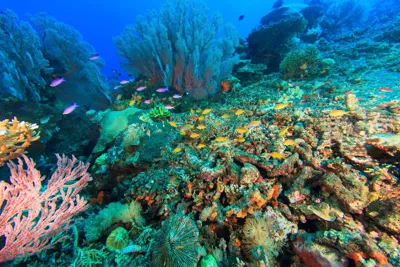 Please note the newsletter signup below is for general consumers, our Educator Newsletter is tailored to meet your needs! Please subscribe with the link above.