Underwater Scout Adventure!
SEA LIFE Aquarium takes pride in providing an exciting and fun opportunity for scout troops while also giving them a whole new perspective on the wonders of the ocean. Spend the day exploring over 20 marine exhibits, 3,000 sea creatures and 250 species in an immersive setting – all the while creating an unforgettable experience for you and your scouts.
Please note: SEA LIFE San Antonio School and Group Visits will be available upon opening.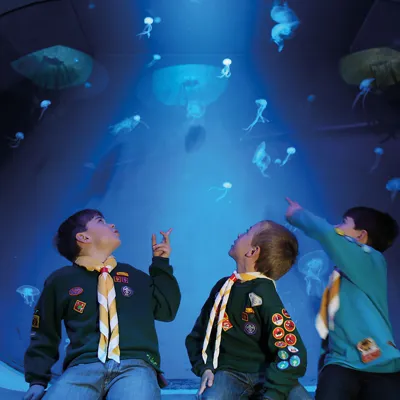 Scout Groups of 10+
Advance reservations are required and must be booked two weeks in advance. Groups that arrive without a reservation will be charged the walk-up admission rate. Please plan ahead and complete an online booking request form and a representative will contact you within 3-5 business days. Although each group's experience will vary, the average group should allow approximately 1- 1 1/2 hours for their visit to fully enjoy all that SEA LIFE offers.
Discounted scout rates
Special scout activities based on marine conservation
Add on an exclusive SEA LIFE Scout Patch for only $3 
Free educational talks throughout the day
Interactive Touchpool Experience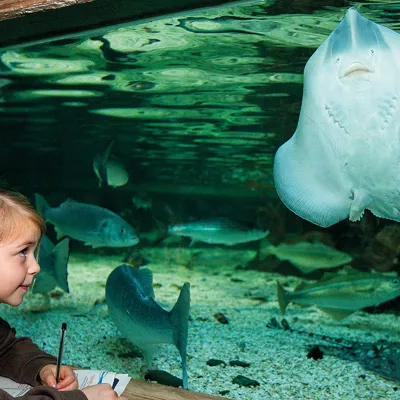 Marine Conservation Patch Program
Coming Soon! Earn your FREE fun patch by visiting as a Scout group or during Scout Days!
Our Marine Conservation Patch Program teaches scouts about the threats that face underwater creatures and the actions they can take to protect them. The educational scavenger hunt touches on what percent of the world's water is fresh water, sustainable seafood choices, endangered species, plastic waste, coral reefs and more. It also includes conservation tips straight from our expert aquarist staff and encourages each scout to come up with a conservation tip of their own to share with friends & family.
Ready to Book?
Bookings will be available 1-2 months prior to SEA LIFE San Antonio's Opening!
If you require further information on group visits please contact our booking team. We'll be more than happy to provide all the information you need to ensure your group has a memorable, inspiring experience. Email: SAGroups@merlinentertainments.biz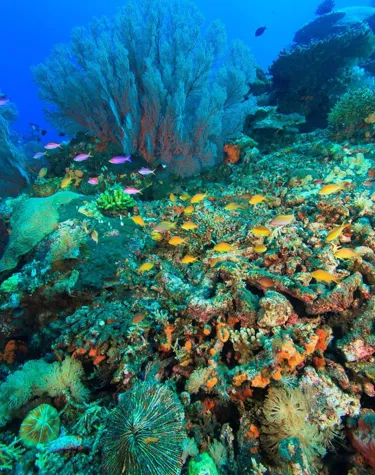 Receive the latest news & offers!
Subscribe to our Group Newsletter and stay connected. We'll deliver our newest learning resources, keep you in the know of any special offers, event invites, friends and family discounts, giveaways and more!
Please note the newsletter signup below is for general consumers, our Groups Newsletter is tailored to meet your needs! Please subscribe with the link above.