Selected dates April - October
5pm - 7pm
Tickets from £25.00 adult, £22.50 child & £5.00 passholders
Come and explore the full aquarium at these limited, intimate evening sessions and you'll also get a rare chance to marvel at the real-life mermaids as they join our blacktip sharks in our ocean tank for a magical time! If you catch their eye, you may even get a mer-mazing greeting!
Explore the full attraction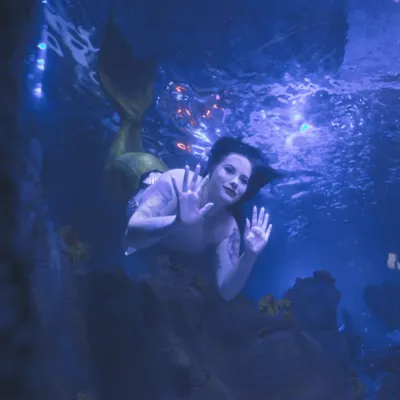 More details
Adult
: £25.00

Child
: £22.50

Annual Pass holders
: £5.00
Tickets must be purchased online in advance. You will get an entry time when booking, then your mermaid viewing time is allocated on arrival. 
2023 DATES
April: Friday 14th, Saturday 15th
July: Friday 28th, Saturday 29th 
August: Friday 25th, August 26th 
October: Friday 27th, Saturday 28th 
Tickets are limited book early to avoid disappointment!