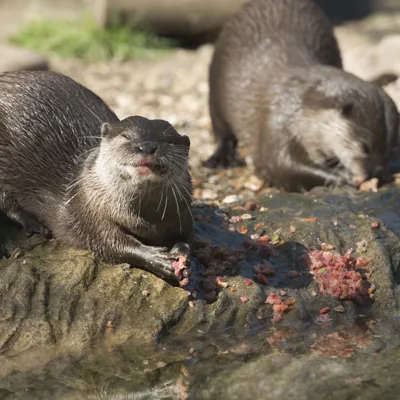 Meet Branston and Badger
Here at Weymouth SEA LIFE Adventure Park, we are lucky enough to have resident Asian Short-Clawed Otters, and now you can meet them, and even give them a snack.
Our playful and cheeky otters- Branston and Badger- are brother and sister. They love nothing more than spending time playing, sleeping, grooming an eating- in fact they love their food so much that they eat four times a day!
Watch as they dip and dive in their river, wash themselves with pebbles, and play in the long grass, and learn all about the from one of our expert animal care professionals, as you feed them one of their meals.
What's Included
Join us for an otterly awesome experience at Weymouth SEA LIFE Adventure Park!
You'll get to choose from a variety of enrichment tools to provide the otters with a fun and engaging feeding time!
Includes entry to SEA LIFE and participation in the experience for up to 2 people
A member of our expert Animal Care Team will teach you all about our otters, their habitat and diet as well as answering any otter-related questions you may have
Important Information
A valid Merlin or SEA LIFE Annual Pass must be presented on arrival in order to benefit from the discounted rate
This experience lasts approx. 20 minutes
Please arrive at least 15 minutes before your experience start time
This experience is for a maximum of 2 people
Children must be 8 years or over to participate in the experience
Children aged 15 and under must be accompanied by an adult aged 18+
£75 for 2 people and £60 for Annual Passholders
Otter Feeding Experience
Passholder
£60
per passholder
Includes entry to SEA LIFE and participation in the experience for up to 2 people
Learn all about our cheeky resident otters, Branston and Badger!
Choose from a variety of enrichment tools to provide the otters with a fun and engaging feeding time
Children must be 8 years or over to participate in the experience