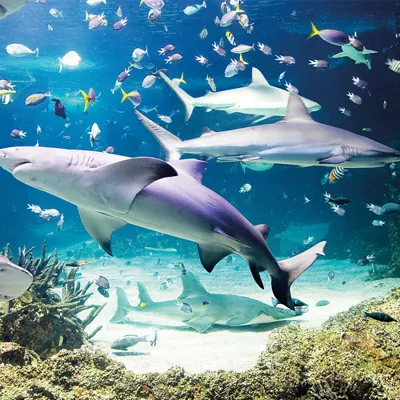 Private after-hours VIP guided tour
Join us for an unforgettable VIP tour of Weymouth SEA LIFE Adventure Park with an expert guide!
You'll get exclusive access to the whole aquarium, during the evening when the Park is closed to the public
A member of our SEA LIFE team will help you discover the secrets beneath the seas for the ultimate VIP visit!
They'll teach you all about our incredible creatures, their habitats and diets, and can answer any sea-related questions you may have
Important Information
Your tour will last approximately 1.5 hours and can accommodate up to 6 guests, which must include at least one 18+ adult
This experience must be booked at least 48 hours in advance
In line with government requirements, face coverings will need to be worn during the indoor sections of the tour unless you are exempt
The Caribbean Cove Adventure Play Area will not be available during the tour
Available from 8th June - pre-book your tickets now!
Enjoy exclusive access around the attraction and find out about all of our amazing creatures
Our expert guide will help you discover the secrets beneath the seas for the ultimate VIP visit
Your tour will last approx. 1.5 hours and can accommodate up to 6 guests, which must include at least one 18+ adult