World's Oldest Aquarium gets a £2.7 million upgrade!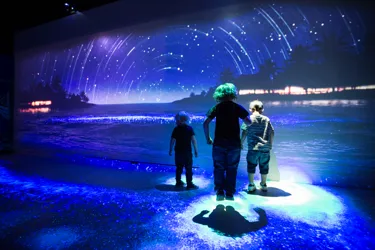 SEA LIFE Brighton, the oldest operating aquarium in the world, has launched their new ocean exhibit Day & Night where guests can experience 24 hours on a coral reef
Opened to VIP press on Thursday 23 May 2019 SEA LIFE Brighton were inundated with guests to take a first look at the long awaited new display.  The launch party saw some very special guests including local Brightonian roller skate and hula hoop star Kiki LaHula who performed and entertained the crowds on the night. Over 400 guests were treated to an exclusive preview of the new area which showcases, amoungst many other species,  black tip reef sharks, nurse shark and also welcomes the reunion of green turtles Lulu and Gulliver!
Home to over 840 stunning sea creatures, the impressive 700,000 litre display captures the experience of an ocean over a 24 hour period.  An ocean tunnel will take you on an immersive journey - from the brightly lit, bustling daytime reef to the mystery of the reef by night.
A huge 5 metre-viewing screen offers a window onto the world of the reef by day, and by night you can dance on a state of the art bio luminescent beach!
Explore Zone