Dream comes true for boy with anxiety aspiring to become an Octopus Psychologist
Wednesday 4th September 2019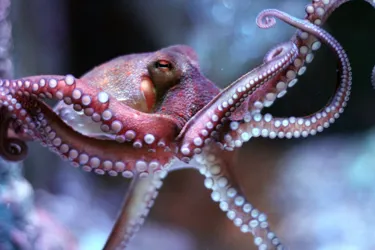 It's not only the human mind that is the subject of discussion this World Mental Health Awareness Day, bear a thought for our marine friends The Octopus
Known as one of the most intelligent creatures under the sea, the Octopus has been a subject of study for animal behaviourist and marine biologist alike for many decades. Octopuses have varied personalities and intelligence that they show in a myriad of ways, therefore providing a challenge and inspiration for generations of researchers. More specifically, the specialist study of Octopus phycology.
When local aquarium SEA LIFE Brighton were contacted to help a young boy with very specific career aspirations, they were more than happy to help. Channelling his love of Octopuses Southampton residents Max Greach , 12 and his Mum Emma began to read 'The Soul of the Octopus' together a book by naturalist Sy Montegomery . The 2011 New York Times Bestseller explores the connection between human emotions and that of the highly intelligent behaviours of the Octopus. Emma and her Son, from Southampton, were so inspired they set about researching how Max could one day become an Octopus Phycologist. As a result of Max's own Anxiety he lacked the self-confidence to realise his dream, therefore Emma contacted SEA LIFE Brighton to share her son's story and to see if they could help him overcome his anxiety and help him on the first part of his journey setting out to work with Octopuses in the future.
In response, last week SEA LIFE Brighton's animal care team organised for Max to spend some quality time with Pumpkin, their resident Octopus. Max and his Mum were guided by Joe Williams, Senior Aquarist, to carry out various enrichment activities with Pumpkin and experience first-hand how an Octopus behaves.
The day certainly helped to boost Max's belief in himself, on being asked about his encounter with Pumpkin, Max said:
"I really enjoyed meeting Pumpkin. She's very clever and interesting. I learned that she likes to play games, Joe knows everything about her and her enrichment. I feel much more confident now, it will be hard work to be an Octopus Psychologist, but it will mean I can do research about them so we can find out about them even more"
General Manager for SEA LIFE Brighton, Max Leviston who arranged the Octopus experience for the family said:
"We've been delighted to be able to be able to arrange this for Max and his Mum and help to support him in his ambitions to become an Octopus Phycologist. To see the gain in confidence from Max in his time spent with Joe and Pumpkin has been fantastic, we hope to continue to help Max with his aspirations because with mental health becoming more of a focus in society, it is great to be able to offer support where and when we can "