Visit our gift shop. You can also visit our shop without an entrance ticket. You can ask our staff about the shop entrance.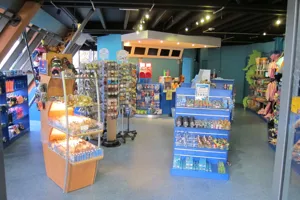 Welcome to our shop
Here you can find a nice memento, like an exclusive SEA LIFE keyring, snowball, magnet or lanyard.
Or are you looking for a nice sea animal themed present? We are happy to assist you!
There are all kind of items. How about an octopus mug? Or a children's book? (Although they are in Dutch!) Jewellery with seahorses maybe?
We have a wide range of plush sea animals, small and large. From plush for babies to plush made of recycled plastic (you almost won't believe how soft and cuddly that is!)
All of our items have been produced under humane and responsible conditions, and several products support charities.
You can always access the shop during opening hours