Waddle In To Meet The UK's Smallest Penguins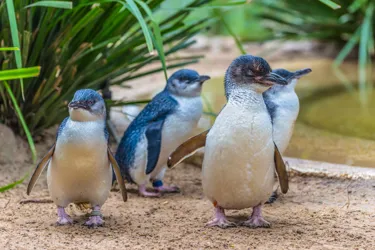 We've welcomed Fairy penguins to their specially designed new home at Fairy Penguin Island. The playful penguins came all the way from SEA LIFE in Manly, Australia, in the hope of one day starting a successful breeding programme.
Our colony of Fairy Penguins (Eudyptula minor) arrived in 2018 when their sanctuary in Manly, Australia, had to close and are the only colony you can see in all of Europe. 
Fairy Penguins (also known as Little Blue Penguins) are the world's smallest penguins measuring just over 25cm tall and weighing around 1 kg. They are native to New Zealand and Southern Australia, but Weymouth was chosen as their new home due to the seaside town's average summer and winter temperatures being very similar to those experienced by the penguins in their natural habitat.
With an investment in excess of £100,000 into their new purpose-built enclosure, visitors can get closer to the penguins than ever before and interact with them in a whole new way through their walkthrough island.
We recently became the first in Europe to successfully breed Fairy Penguins and have welcomed six newly-hatched chicks to the family so far this year! We hope to create a sustainable population of Fairy Penguins in Europe- they're a must see, so make sure you book your visit and waddle by to say hello!
Find out more