Feedings
Enjoy the incredible food that we have from the gluttonous otters, the green turtle, sharks to the skillful way of eating the octopus.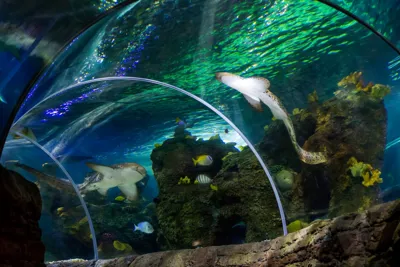 Help centre
Helpful information about tickets, discounts, promotions....
The SEA LIFE Benalmadena Aquarium is suitable for everyone. 
Are there any age restrictions?
The SEA LIFE Benalmádena Aquarium is suitable for everybody however if you are under the age of 12 you will need to be accompanied by an adult aged 18 and above. You may be asked to produce I.D upon arrival to prove your age so please ensure you have this handy to avoid disappointment.
Are promotions cumulative?
No, none of our promotions are cumulative. If you get to different discount vouchers you will need to choose the most convenient for you and your family. Also the tickets bought online are considered promotions, so you would not be allowed to combine them.
In all our promotional vouchers you have the terms & conditions applicable on each case.
Are promotional vouchers individual?
Depending on the voucher you have, some maybe valid for up to 4 people presenting just one voucher, or in others, you need one voucher per person. Make sure you have the right number of vouchers for your group before you reach the Aquarium, our terms & conditions are strict and we cannot do exceptions.
I bought my ticket at the Hotel or Agency. Is it considered a promotion?
Yes, any tickets bought at a different rate than the standard door price is consider a promotion. Therefore is not cumulative with any other promotion.
You will need to validate your hotel voucher at SEA LIFE admissions.
I did not receive my confirmation email or tickets?
Please check your junk and spam folders as at times emails can automatically be sent here. If you still do not see your confirmation email and/or tickets please follow this link to access your booking. 
Do I need to print tickets purchased online?
No entries need to print it. When visiting be sure to bring a mobile device in which you can show the purchase you will receive confirmation by e-mail with the reference number. The aquarium staff can check the validity of your purchase.
How long will it take me to view the whole attraction?
On average it will take you 1.5 to 2 hours to enjoy the full experience of SEA LIFE Benalmádena. However this depends completely on you and how long you would like to enjoy our underwater world.
Where do I need to queue?
When you arrive at the aquarium you will find that we have a general queue line and you have to wait to receive your ticket.
Can we touch the creatures?
For the health and safety of you and our animals, we ask that you do not touch any of our animals unless invited to by a member of staff. We have a rock-pool display where you are welcome to touch our starfish and crabs under the supervision of our fully trained staff. 
Are there any creatures we can feed?
There are many other feeds and talks that you can watch but not participate in too. Please view our Talks and Feeding times page for information on all the feeds and talks we do daily.
Am I allowed to take photos at SEA LIFE Benalmádena?
Yes you can as we want you to take your memories of our creature's home with you, however we do not permit the use of any flash photography as this can scare and harm and even blind our creatures. The use of tripods is also not permitted and if you wish to use a tripod you will need to arrange this with our marketing team.
Is there anywhere to store my belongings or pushchair?
We unfortunately do not have any cloakroom facilities for you to be able to store your belongings, this includes pushchairs on peak periods.
Do you have a gift shop?
We do have a gift shop and this is located at the exit of SEA LIFE Benalmádena. This is also accessible without entry to the SEA LIFE Benalmádena  itself. To contact our gift shop please email your query to info@sealife.es
Can I eat and drink once inside SEA LIFE Benalmádena?
Eating and drinking within the aquarium is not permitted so therefore please do not bring your own snacks and refreshments with you. Your entry tickets are valid all day however so you can exit to eat and then re-enter at your convenience.
Is there anywhere to eat lunch at SEA LIFE Benalmádena?
We do not have any facilities where you can buy lunch, however you ticket is valid all day so you are able to exit to get lunch. Eating and drinking is not permitted in the Aquarium.
What happens if I need to leave before the end of my visit?
All tickets are valid for the whole day, so you are free to enter and exit at your leisure. Please ensure your however that your hand is stamped before exiting so that you can gain re-entry.
Is there a place for nursing mothers?
Currently we do not have a place designated for nursing mothers,  however staff on the day will be only too happy to assist you in finding somewhere private.
Do you sell tickets for other attractions?
We have many ticket combinations and you can receive great discounts on tickets.
Do I have to visit all the attractions in my combination ticket in one day?
You can if you like, but if you would like to space it out a little you can do so too. You will need to visit the issuing attraction on the date you have selected when booking and then you will have all your other tickets printed at the issuing attractions entrance. You will then have 30 days to visit the other attractions within your combination ticket.
Do you accept American Express or Maestro Cards?
We accept these card types for payment.
I have booked online and been charged twice, what should I do?
 Please contact us at +34 952560150, after checking in the system that effectively has been a duplication, it will make the refund to your account the corresponding amount as soon as possible.
I have double booked by mistake, what should I do?
If you have double booked please make sure that you have the card that was used to make the booking and your double booking will be refunded at the ticket office. Alternatively, email us on info@sealife.es  for further information and help.
I can't buy a single child ticket online, how do I purchase a child ticket on its own?
For security and safety purposes we do not sell child tickets individually on-line. If you need to add a child ticket to your existing booking, contact us at info@sealife.es  You will then need to pay the outstanding balance at the ticket office on the day of your visit. 
Free Wifi
With your entrance to the aquarium you will get the Wifi at the Café Bar.
More entertainment...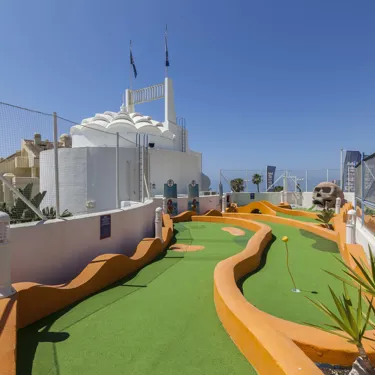 Minigolf Pirate
Enjoy our Minigolf Pirate with your family!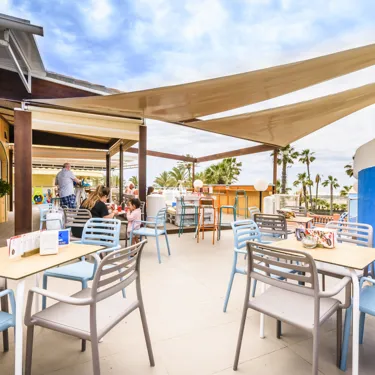 SEA LIFE Café
Relax in our cafeteria with the best views. Children's area, snacks, drinks...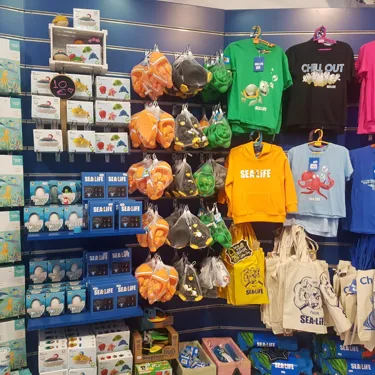 Shop SEA LIFE
Discover our SEA LFE store where you can find a wide selection of SEA LIFE products and souvenirs to remember your visit.