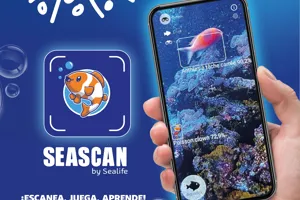 Scan & learn
We present the new educational app, game and recognition of marine species in real time.
We use technology to enhance the experience of your visit. This application will allow you to discover the marine world:
Find as many species as possible to complete your collection called "Aquadex".
Completing as many missions as possible.
By answering quizzes that provide information on the main challenges facing our oceans (overfishing, decline, plastic pollution, coral bleaching, etc.).
Seascan is available for free on AppStore and PlayStore / Android and iPhone smartphones.
For the moment, it is free to download and use.
Don't hesitate to download the SeaScan app before your visit!