HOW TO SUBMIT A DONATION REQUEST
SEA LIFE Charlotte-Concord Aquarium is proud to support the work of local non-profits with our charitable ticket donation program. We may make donations to non-profit organizations whose goal is to serve seriously ill, disabled or disadvantaged children ages 2-12. We will also consider donations to non-profit organizations whose focus is on conservation, marine life and environmental protection.
We will review each donation request and may contribute tickets to non-profit organizations based on the following guidelines:
 Guidelines
Requests must be made by a federally licensed 501C3 non-profit organizations
Requests should be made 60 days in advance of the event. Organizations are allowed to submit one request per calendar year.
No phone, email or fax requests will be accepted.
Organizations affiliated with political groups, religious groups, or controversial causes will not be eligible.
Individuals, incentives programs, high school and college programs, sports teams and social groups will not be eligible.
 Requests must be submitted on letterhead and include:
Background goals of organization
Intended use of the donation
Ages of the children who will benefit (if applicable)
When the donation is needed
How many people will be attending the event
Non-profit number (501 C3)
Date, time and location of event
How the donation will be used (silent auction, live auction, raffle or door prize)
Organization contact (name, phone number, email, mailing address)
 Please mail requests to:
SEA LIFE Charlotte-Concord Aquarium
8111 Concord Mills Blvd, Suite 8461 
Concord, NC 28027
Note: Due to the high volume of requests, we cannot confirm receipt of letters or provide status. Declined requests will not receive a response.
If your request is accepted, you will receive notification within 60 days. Thank you for thinking of SEA LIFE and giving us the opportunity to support so many wonderful organizations! We wish you the best in your fundraising.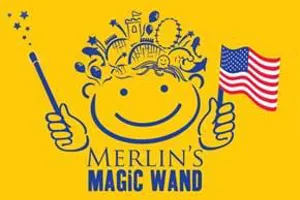 Merlin's Magic Wand
Merlin's Magic Wand is the charity of the world's second largest global visitor attractions group, Merlin Entertainments. Formed in 2008, Merlin's Magic Wand looks to deliver magical experiences to disadvantaged children across the world – and since we began more than 110,000 children and their families have already benefitted.
Many children, through serious illness, disability or other disadvantage, are not able to enjoy the kind of days out that others take for granted. By providing tickets and financial support in the form of travel grants, Merlin's Magic Wand aims to ensure that these children can enjoy a magical day with their friends and family at Merlin Entertainment Group's attractions across the world. More than that, where children are too sick to visit us we are also developing a number fun play projects in hospices and hospitals close to our attractions.
To find out more information about Merlin's Magic Wand, the eligibility criteria, and how you can apply, please visit: https://www.merlinsmagicwand.org/usa/
Merlin's Magic Wand has been set up to work directly with children, families and organizations that will benefit from a day out. Unfortunately, Merlin's Magic Wand is unable to provide tickets to other charities to assist them with their fundraising through raffles and auctions