Sunday, December 3rd
10:00 AM
Tickets starting at $15.99 Per Child and $18.99 Per Adult
All Ages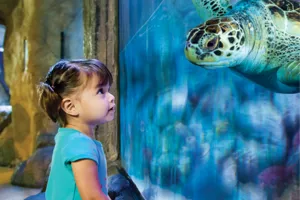 Sensory Day
Limited Use of Audio: Throughout the aquarium, we will ensure a tranquil atmosphere by minimizing the use of audio.

Minimal Screens and Bright Lights: In line with our commitment to a sensory-friendly experience, we will reduce the presence of screens and bright lights.

No Talk Times: During Sensory Day, there will be no scheduled talk times. Rest assured, our knowledgeable education staff will be readily available onsite to answer any questions you may have about our fascinating marine creatures.

Advance Online Bookings: To ensure a seamless and enjoyable visit, we kindly request that you secure your tickets in advance by booking them online. This will help us manage the number of guests and maintain a comfortable environment for everyone.

Return to Standard Operations: Our attraction will revert to its standard operating procedures at 11:00 am, accommodating guests who prefer the regular aquarium experience while preserving the sensory-friendly environment for those who joined us earlier.
We look forward to providing an inclusive and enjoyable experience for all our visitors on this special Sensory Day at Sea Life.
Use code:  Sensory for $10 tickets!