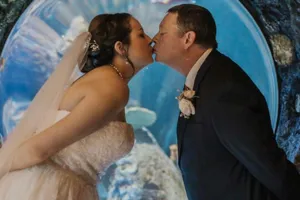 Weddings
Get married under the sea! Celebrate your special day by having your wedding here at Sea Life Charlotte-Concord!
Wedding includes:
After-Hours rental of the aquarium for 4 hours
Up to 50 guests
We provide: tables, chairs, linens, and table decor
Pricing starts at $2,000+tax
Know Before You Go:
Additional time and people may be added, for an extra charge
Bring your own food and drinks. If you are bringing alcohol, you must have a liquor license and bartender to serve.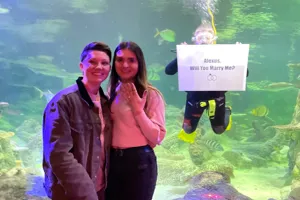 Engagements
Propose to your significant other under the sea at Sea Life!
Scuba Diver Proposal, starting at $300+tax, includes:
Admission for 2 guests
Beyond The Surface Tour
Scuba Diver in our ocean exhibit with sign (sign is provided by guest, and must be approved prior to booking)
Photos taken by our staff
Private Beyond The Surface Tour Proposal, starting at $150+tax, includes:
Admission for 2 guests
Private Beyond The Surface Tour
Photos taken by our staff