Get up close with jungle beasties with our Rainforest Rangers!
Immerse yourself in a world of creepy crawlies and curious critters. Can you race our colony of leafcutter ants to find the queen?
To date, at least 40,000 plant species, 427 mammals (e.g. jaguar, anteater and giant otter), 1,300 birds (e.g. harpy eagle, toucan and hoatzin), 378 reptiles (e.g. boa), more than 400 amphibians and around 3,000 freshwater fishes, including the piranha, have been found in the Amazon.
An adventure awaits, so what are you waiting for?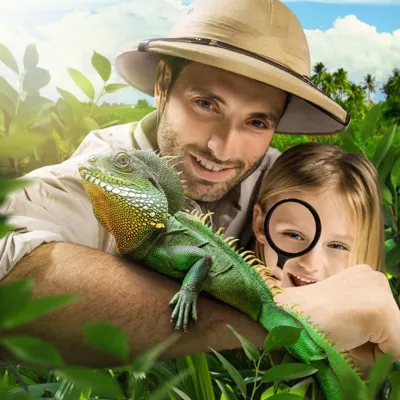 Become a Rainforest Explorer!
If you've ever wanted to see a croc or a creepy crawly from the deepest depths of the jungle, visit SEA LIFE Great Yarmouth to meet our Rainforest Rangers and all of their friends.
Not all of our creatures are big and fierce!
We also have the small and mighty! From the Blue Poison Dart Frog to Leafcutter Ants, venture with us to see which other rainforest species you will meet.