This October enjoy spooky family fun as you explore Ascarium!
16th - 31st July
Tickets from £15.10 (Included with Standard Entry ticket)
Spooky fun for families with children
Join us as Aquarium turns Ascarium this October!
The Sea Witch is back for 2021! Follow an immersive trail to help her find her missing potion ingredients, which are hidden throughout the depths of the tanks, and discover some of the spookiest creatures of the sea as you explore...
Make your way to the Witch's lair where she will cast her spell to open her treasure chest revealing a special reward!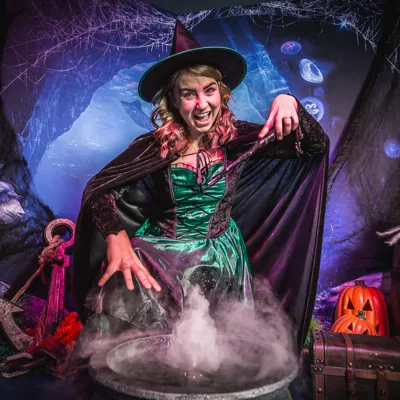 Help the Sea Witch cast her spell!
Hunt down her missing potion ingredients!
Meet the Sea Witch in her lair, or roaming the aquarium in search of her items!
Enjoy cool photo opportunities
Fun activity trail and treasure hunt style activities throughout the aquarium
Enjoy visual games and activities
Get a reward for completion
Standard Ticket
Online from
£15.10
Per adult
On the day/Peak
£18.95
Per adult
Entry to SEA LIFE Great Yarmouth aquarium, with entrance at a chosen 10-minute time slot
Dive in and get face-to-fin with fascinating creatures, including penguins, crocodiles, rays and majestic green sea turtles

Book with confidence guarantee

Because we're living in uncertain times, we want to make it as easy as possible for you to amend your booking, ensuring that you won't miss out if your visit is affected or if your plans change.

You can reschedule tickets for free, with the flexibility to move bookings no later than 24 hours before your arrival time.

Under 3's go free!