Jurassic Tunnel
Travel back in time and discover a great variety of sharks, our living descendants of the Jurassic era. Walk beneath the skeleton of a Plesiosaur and learn about the first Jurassic fossil found in Spain.
Do not miss our Archaeological Excavation activities !. With these activities we will make a journey in Time. We will discover the paleontological remains. If we follow these instructions everything will go well.

We will get a lot of information about the animals that have been buried down there for millions of years!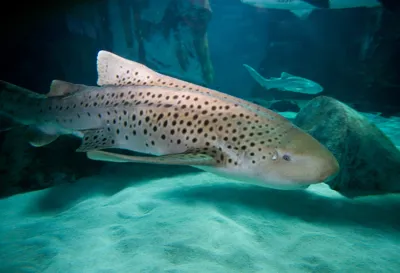 Sharks
Sharks have inhabited our oceans for more than 400 million years and have survived five mass extinctions, demonstrating perfect adaptation to their environment. Without sharks, marine ecosystems face an uncertain future, so safeguarding the future of these species is vital.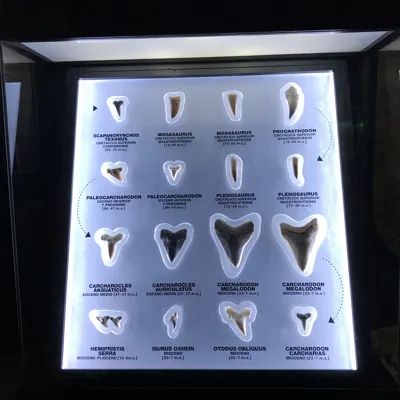 Megalodon
Almost 20 million years ago, he was the absolute king of the oceans. It was the biggest predator that the planet has known, and with a single bite, it could split a whale in half. We are talking about Carcharodon megalodon, a monstrous shark that is distantly related to the present white shark. Megalodon means "big tooth", and its' teeth are the only thing remaining from this terror of the seas. Due to its cartilaginous skeleton, there are no fossil remains.
Palaeontologists of the 19th century soon found an incredible similarity between the teeth of the megalodon and those of the white shark. Despite the difference in the size of their teeth, which are four times smaller, it serves as a reference for estimating the size of an adult megalodon, which could measure between 16 and 20 metres. Imagine a shark the size of a bus, with jaws full of serrated teeth!
After disappearing, it is today a close relative who assumes the title of king of the seas: Carcharodon carcharias, the great white shark.
So we will never see a megalodon swimming in the sea. But we can still enjoy the majesty of the great white shark, so long as we continue to protect them. Although not an endangered species, it is considered a threatened and vulnerable species.