Sea Life Great Yarmouth cares deeply about the oceans and what can be done to protect the creatures that live above and beneath the surface. As an award winning centre for education Sea Life Great Yarmouth continues to raise awareness of plastic litter and how to reduce it.
With that in mind, the Sea Life Centre pledged to commit to at least one beach or river clean per year. Hundreds of members of the public gave up their time throughout 2019 and into 2020 to volunteer for our beach cleans or river cleans, clearing hundreds of kilograms of rubbish from Breydon Water and the North beach of Great Yarmouth. They helped collect old fishing equipment, rope, and bottles as well as other items of debris on our beach, which prevented it from ending up in the sea where it can become a serious hazard for marine life!
Total weight of rubbish removed so far: 1016.12 kg (2240.16 lbs)
To give you some idea of how much that is, a fully grown black rhino weighs 1,100 kg (2425.085lbs) so that's a lot of rubbish!
The next Beach clean is - TBA
At the moment we can't organise any beach cleans, however we will as soon as we are able. If you would like to join our beach clean please let us know via Facebook
FAQ's
How do I join a beach clean?
Due to current restrictions, we have had to postpone our scheduled 2020 beach cleans. However watch this space for more information!
Who can get involved?
Everyone of all ages are welcome! From individuals looking to make a difference; to families, youth groups, student groups and local community groups, everyone is welcome to join us in helping to protect our native wildlife!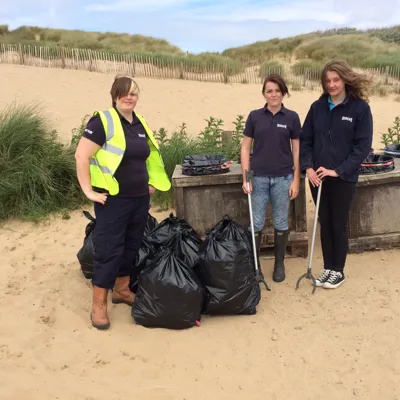 What do I need to bring?
We provide any equipment necessary so volunteers only need to dress for the weather and bring their enthusiasm, protective gloves if they have them and a packed lunch if attending a beach clean.
What are the benefits of helping out?
You will have directly helped to clear debris that could have been a serious problem for creatures and helped to protect our native aquatic creatures too.