Friends of Horsey Seals
Wednesday 23rd January 2019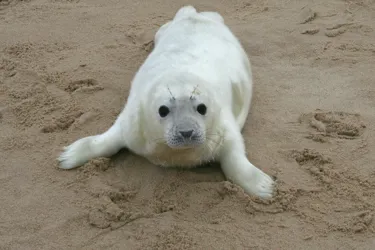 SEA LIFE Great Yarmouth has recently started working with Friends of Horsey Seals to raise awareness for their Flying Ring Campaign. This campaign aims to educate the public about the dangers seals face as a result of abandoned or lost flying rings, with many being badly injured each year
Friends of Horsey Seals have received over 30 reports this year of seals with plastic items around their necks. To some that may not sound like a lot but remember this is only one small area of the UK so only represents a tiny part of the problem.
To help raise awareness, SEA LIFE Great Yarmouth will soon be displaying a new video in our under the raydar area. You will also be able to find leaflets about the project and a collection box, should you wish to donate to this good cause. Our under the rayar talk will also soon include a message about the impact plastic rings are having on our seals. This project also links in nicely with our beach cleans, so we will be reporting any found rings in future beach cleans to Friends of Horsey Seals.
And this is just the beginning! We don't just want to raise awareness with the public! We want to work with local business owners to encourage them to stop selling flying rings or at least raise awareness of the project if they do.
If you would like to find out more about the project, visit the Friends of Horsey Seals website. https://www.friendsofhorseyseals.co.uk/flying-rings-campaign-update/
And of course, soon you will be able to find out more at the SEA LIFE Centre! Watch this space!